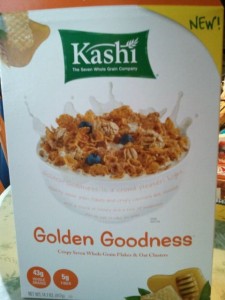 Ahh, I LOVE new products. Whenever I see them, I become an instant impulse buyer and put them in my shopping cart. This box of cereal certainly was no exception.
When I opened the box, I was a little surprised. It looks like mostly tiny flakes, with a few pieces of oats thrown in. Granola or oat clusters happen to be my favorite parts of cereal, so I was a bit bummed out.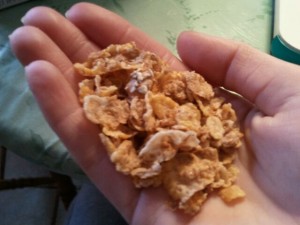 The flakes were kind of airy, slight honey flavor, and  I could certainly tell it was a wheat flake. It had that nutty after taste to it that I notice with wheat products. The oat clusters were, of course, the best part. Sweet, crunchy, slight honey/vanilla flavor. I wish there was more of them, and I wish they were BIGGER!
One thing I did love- the PORTION size! 1 1/4 cups! I hate when cereals have anything less than a 1 cup serving. I'm a cereal girl- and I like to munch on a lot with fruit and milk for a perfect breakfast 🙂 There's also 43 grams of whole grain per serving according to the box, and 5 grams of fiber. I'd say this is a 4 star rating for me!
1 1/4 cups is 210 calories, 1.5 grams of fat, 49 grams of carbohydrates, 5 grams of fiber, 9 grams of sugar, and 6 grams of protein.
What's your favorite Kashi product?