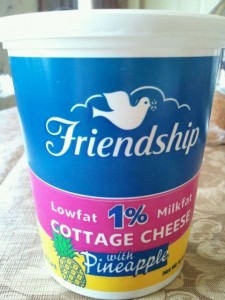 I have a unique relationship with cottage cheese. Some brands I love, and others I could do without. Sometimes I find it too tart and off-putting, and other times, like with the Friendship 1% Lowfat Cottage Cheese with Pineapple, I fall in love.
Yea I said it. Love. I LOVE this cottage cheese!
Here's a pic of a scoop straight from the container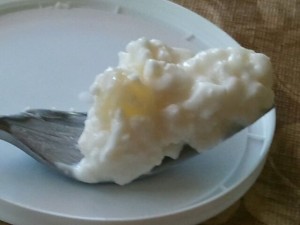 Upon first bite, I was greeted with a sweet tasting cottage cheese, with the fresh taste of pineapple as well. It was a small curd cottage cheese, although I did have an occasional big piece, that was soft yet chewy, and really delicious. It was sweet, but not in a way that it was overly sugary tasting, which I liked. I felt it was a very satisfying part of my breakfast, and I would certainly eat it again. In fact, I'm tempted to hide it in the back of my refrigerator so I don't have to share! =P
Overall, I hope you saw this one coming, 5 stars. Guess I'm a fan of  products with pineapple in it! DELICIOUS!
What's your favorite brand/flavor of cottage cheese? Or, what's your favorite way to eat plain cottage cheese (I definitely need some tips on how to eat it plain!)?
1/2 cup ( 113 grams) is 120 calories, 1 gram of fat, 16 grams of carbohydrates, 0 grams of fiber, 14 grams of sugar and 12 grams of protein.