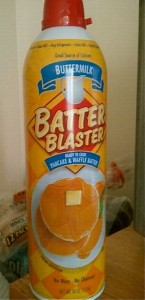 I FINALLY tried this stuff. I pass by Batter Blaster Pancake & Waffle Batter in a can all the time at the stores. I always see it, I always wonder, ponder for a few minutes or so, and end up not buying it. But WHY?!
I don't know. I'm a creature of habit.  My brain reasons with me, Why buy this if it might be bad?… I usually eat cereal for breakfast…I don't even really like pancakes….then I'd have to clean the pan…. (LAZY)
But this time, my friends, THIS TIME I bought it. Batter Blaster Buttermilk Pancake & Waffle Batter went into my shopping cart, up to the register, and then home with me.  I want to say it was a bit pricy…maybe 4 or 5 dollars or so, and I bought it at Whole Foods.
The other day I wanted something other than oatmeal. A girl can only have cereal or oatmeal so many times, and since I don't own a toaster that puts a damper on my breakfast options. (Ever try "toasting" a piece of bread in the oven? Yea, 15 minutes for one slice of bread is so not worth it….)
I cooked up one large pancake instead of two small ones as the serving size suggested, along with some eggs. I saw that there was very little protein/fiber in the Batter Blaster Buttermilk Pancake & Waffle Batter, so I knew I needed something to hold me. And what better to pair up pancakes with than eggs?!
Here's the outcome…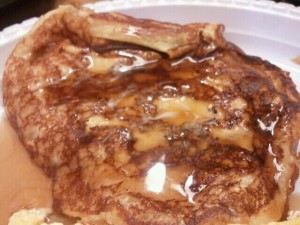 Look yummy? Yes? Well….
IT WAS.
It was SO good. I cooked it over medium heat with a little Pam/buttery spray. The result was crispy edges, a fluffy  and soft middle, and just overall delicious. I only needed to add a bit of SF syrup (would probably be even better with REAL maple syrup, but you guys know I am a diabetic!) and it was perfect! It had a yummy buttermilk flavor, and honestly tasted exactly like Ihop pancakes. In fact, I think Ihop uses this pancake batter….. ; )
And, well,  it was SO EASY. A college dormer's/lazy person's/my brother's dream. Literally shake the can, turn it upside down over a pan, and cook. Voila!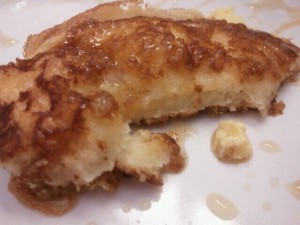 Obviously, the nutrition facts could be better. More fiber, less sodium. But these are SO good, so like I said, pair them with some eggs for lasting effect! Or yogurt, whatever floats your boat =) 4.5 stars
Pancakes or waffles? Which one is your favorite? Normally I'm a waffle person, but this batter blaster has CONVERTED me!!