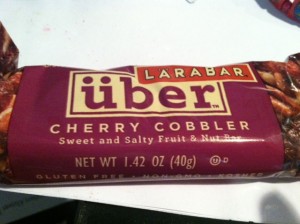 I love when I get new products to try, and when new surprises await me in the mailbox or outside my door. To my surprise, I found a little bag from Larabar with some of their new bars, Uber bars, which are sweet and salty fruit and nut bars.
I LOVE fruit and nut bars. Satisfying, sweet, crunchy, and just an awesome snack. Given I also love Larabar because they use minimal ingredients when making their products, I had a feeling these were going to be good 🙂
I got 4 flavors. Bananas Foster, Cherry Cobbler, Apple Turnover, and Roasted Nut Roll.
First one up? Bananas Foster. HAD to try this one first, as I love anything Banana flavored! This one had only 14 carbohydrates, which impressed me, but had 17 grams of fat. I see that as a lot for a snack, but at least it's heathy fat from walnuts and such.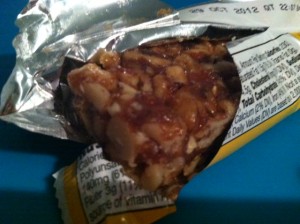 The taste was pretty good! It reminded me of a banana walnut muffin at first, when you take the first biteand the muffin top is full of walnut pieces. It had a banana flavor, and the walnuts were nice and crunchy, however, the bar was still pretty soft in consistency. There was a bit of an awkward saltiness to it however. Like a little too salty. Don't get me wrong, it was good. I just think the saltiness outweighed the sweet, and I kind of wish I could throw a chocolate chip or something in there.
However, a good bar! Unique in flavor, and I loved how the consistency was both crunchy yet soft, and the minimal ingredients. This one gets 3.5 stars
Next up, Cherry Cobbler.
This one was very soft. I mostly tasted the almonds at first, with a little bit of a tart/sweet background. Some bites better than others in regards to sweetness. The pecans and almonds were the predominant flavor, and it was crunchy yet soft in consistency. The bar itself is not really sweet- its mostly tart and then has a salty after taste. However, I LOVE the buttery flavor from the pecans 😀
Overall, I liked banana one better. 3 stars
NEXT, Apple Turnover.
All I can say is YUM YUM YUM. It was buttery, crunchy yet soft, and tasted like apple pie :D. It was sweet, had pieces of dried apples and raisins, and it didn't have so much of that "salty" thing going on, which I liked. In a nutshell (hah), it was super delicious, and it was sticky! There was a little bit of tartness every now and then, and I felt like I definitely needed some water. I thought it was mostly almond flavor for the nuts, but it was actually walnuts!
4.5 stars. My favorite!
Last up, The Roasted Nut Roll.
This one was also good! It was not too sweet, which I liked, and the flavors and crunchiness of the nuts really shined though. It had a bit of that salty taste, but the mild sweetness and saltiness worked REALLY well. Plus, I loved the roasted almond flavor! 4 stars
Overall, really good bars! I like the Uber line, and will definitely buy if I see them in the future. I got my 4 to try for free, and I'm glad I got the chance to try them!
The nutritional information of each bar is similiar, but here is one of the bars stats.