The LOVELY people over at Quest Bar sent me a  free sample box of 11 of their products, the QuestBar.
What's a QUESTBAR you ask? This particular line of protein bars states it is "the only protein bar with a perfect nutritional profile" according to the insert I was sent alongside the bars. Each bar has 20 grams of protein, 4-6 grams of "non fiber carbs",  has no added sugar, no soy protein, and is gluten free.
I got the box yesterday, and already tried 2 of the bars. (Eager beaver over here 😉 )
The first one I tried was Coconut Cashew.

It was a tan colored bar, about the size, length-wise, of my palm.  Upon first bite, I though…cinnamon? There was a bit of a cinnamon flavor, which accompanied the yummy coconut. It was very chewy, very soft, and dense. It was sweet, but did not have a sugary taste to it. There was a bit of an aftertaste, but not overpoweringly so. I LOVED how chewy it was, and how it had a good bite to it. And although I didn't really taste much cashew flavor, it was predominantly coconut and that "cinnamon" I tasted, I think the cashew may have played a role in the softness and (very) slightly oily consistency. You can see when you touch the bar it's not super dry and I think the bit of fat from the nuts may have something to do with that. This one gets 4.5 stars
Next up, The Cinnamon Roll flavor.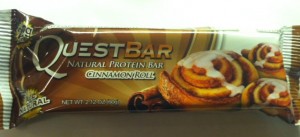 I was recommended by 2 people to try this one, so I had high expectations. And…they were most certainly met!  This bar was SO good! Upon first bite, I definitely tasted the cinnamon. It was sweet, but again, not sugary tasting. It was also very soft, chewy and dense, as well as it had a very fresh and moist feel to it. I could almost taste the "icing" in the bar on the "cinnamon roll", and….in fact…it DID pretty much taste like a cinnamon roll! Dang!!  I will definitely be ordering more of these in the future, as I really enjoyed it. I was quite sad when it was over, because the flavor was phenomenal and the nutritional facts were awesome to back it up. It was a tad high in sodium (300 mg) , but nothing too outrageous. 5 stars
One thing I liked about these bars, is that although they had a good deal of fiber in them, it didn't bother my stomach. Sometimes with products that have a LOT of fiber (more than 8 grams or so added) I notice my stomach will hurt, but these did not do anything, which I liked. I was very content and filled with the bar, and really enjoyed both of these flavors 🙂 More reviews to come!
Here is the nutritional facts for the Coconut Cashew flavor.