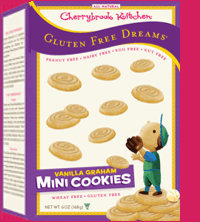 I'm always curious about cookies (who isn't?) so i got a box of the Vanilla Graham mini cookies (because if cookie wasn't enough, they are MINI!! Who doesn't love mini cookies!) in the mail from Cherrybrook Kitchen. Aside from being cute and gluten free, they are also peanut, dairy, egg and nut free.
YEP!
They are certainly yummy. They are about the size of a half dollar each, and they have swirls on top. It resembles the top of a snail shell to me. They have a very strong vanilla flavor, but are not overly sweet. They sort of taste like a better Vanilla  Wafer (and they don't contain any trans FATS!). They are crispy and very "light" tasting.
So overall, there good! I'm giving them 4 stars.
6 cookies are 120 calories, 4 grams of fat, 20 carbohydrates, 1 gram of fiber and 2 grams of protein.
My only complaint is the low fiber content
Evaporated cane juice, brown rice flour, corn flour, palm oil, cornstarch, low fat soy flour, corn syrup, vanilla and natural flavors, salt, sodium bicarbonate, soy lecitin, xanthan gum, cinnamon.