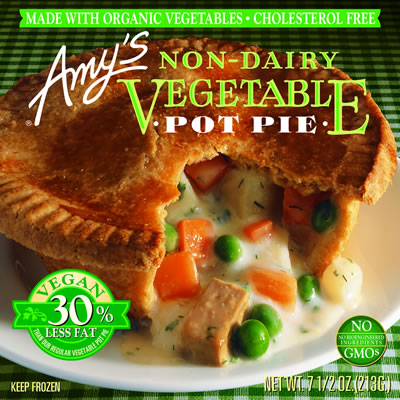 I'm putting this one up here because Amy's Kitchen Non-Dairy Pot Pie it is one of my FAVORITES. It's a staple in my house. Literally, I panic after I eat one because that means I have to run up to the store and buy another one ASAP! 🙂
This one is relatively low in fat (especially saturated fat), only 360 calories and packed with veggies and ooey gooey pot pie deliciousness. All without milk or other dairy, so those of you who don't do dairy can enjoy! (This is even VEGAN!)
So let us begin the review, shall we?
I cooked this  in the microwave for 3 1/2 minutes and then just a littttttle bit in the toaster oven to crisp up the crust.
Anywho-
The Crust is delicious. And I'm glad it is- what's a pot pie without a yummy crust? It's flaky and crisp, and I love breaking off a piece of the top and scooping up some of the veggie mixture. Speaking of veggies, the peas and carrots are crisp and sweet, the potatoes are little square chunks that are very fluffy, and the tofu is amazing. My favorite part of the whole thing. I love amy's tofu in every meal! The tofu is soft and so flavorful- i just love love love it! The veggies are in a creamy sauce as well, that only tastes buttery! 🙂
Overall, this pie rocks. You saw it coming, 5 stars. It also doesn't leave you with that heavy feeling some other meals can leave you with all the saturated fat and unneccessary ingredients. I feel good eating this pie!
1 pot pie is 360 calories, 13 grams of fat (only 1.5 saturated), 50 grams of  carbohydrates, 4 grams of fiber, and 10 grams of protein. Satisfaction at it's best.
 (VEGAN) ORGANIC WHOLE WHEAT AND WHEAT FLOUR, FILTERED WATER, ORGANIC POTATOES, ORGANIC CARROTS, ORGANIC TOFU (FILTERED WATER, ORGANIC SOYBEANS, NIGARI[MAGNESIUM CHLORIDE, A NATURAL FIRMING AGENT]), RICE FLOUR, ORGANIC ONIONS, ORGANIC PEAS, EXPELLER PRESSED HIGH OLEIC SAFFLOWER OIL, SOY FLOUR, ORGANIC TAMARI, EXTRA VIRGIN OLIVE OIL, SOY LECITHIN, BAKING POWDER(CALCIUM PHOSPHATE, BAKING SODA, CORNSTARCH), SEA SALT, ORGANIC AGAVE NECTAR, SPICES, YEAST EXTRACT, TURMERIC.
Hey guys- you all know my love for Amy's. Their birthday is coming up soon (22!!) and they are holding a slogan contest. Create a rhyme, jingle or phrase, 15 words or less, and send it in here for a chance to win $500 worth of Amy's stuff. Any hey– if you aren't too fond of Amy's but have a good idea, let me know and I'll enter for you!!! 😉