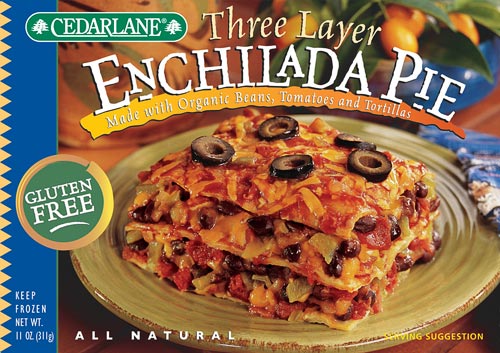 I know it's the day after Christmas, but, who's craving Mexican!?
I was! Too  many sugar cookies (organic of course 😛 ) and yummy dishes can do that to a girl. So I was in the mood for some Mexican, and where other did I turn to than Cedarlane's Three Layer Enchilada Pie?
Cedarlane's Three Layer Enchilada Pie is layers of organic corn tortillas, green chilis, cheddar cheese, organic black beans, black olives and cilantro all smothered in a tomatoey salsa-style sauce. Taking it out of the freezer it sure looks prettyy (sorry i forgot to take a picture! D'oh! 🙁 ). You could see the cheddar cheese sprinkled on top with about 5 or 6 olives and some scattered green chilis to decorate the dish (and add flavor, obviouslllyyy). When it's cooked, the cheese melts in with everything else and it has nice and crispy edges. It smells amazing too- saucy, cheesy, onion-y, yumm-y!
I took this "pie" out of the container and transfered it to a plate and put a big heaping of applesauce next to it ( Okay it seems like I eat applesauce with everything!…perhaps that's true 😀 ). I sort of destroyed the layers by doing that, but it was one big pile of deliciousness on my plate instead of in an organized stack. But i'm not biased- I can eat messy things. Looking at this meal there were a TON  of black beans, so if you like black beans, you are IN LUCK! I scooped up some of my "mess" and it was actually very good. It wasn't spicy at all, and had a nice cheddar cheese taste. The cheese had a consistency after being microwaved to the cheese in baked macaroni & cheese, rather than being gooey like the cheese in mozzerella sticks (you know, that  annoying kind that you keep pulling and pulling and never ends…*sigh*).  It gets a little pasty, but still has a nice sharp, cheddar taste. The chilis and olives had a wee bit of a crunch to them, and flavored the dish nicely. The taste of the dish overall is like combining Amy's Cheese Enchiladas with Cedarlane Vegetable Enchiladas. Both I enjoy very much- so I was a happy camper :). I was also happy there was no corn in this dish either (aside from the corn tortilla). Every time I buy enchilada/burrito products there are always corn niblets! I prefer other vegetables, so thank you, Cedarlane for omitting it this time! 🙂
Overall, I liked this. It reminded me of eating a bowl of nachos with the hot salsa/cheese dip in "pie" form. It has a nice tomato and onion flavor, and it was satisfying with the 26 grams of protein it provided. The negatives, however, are that the sodium is a little high (50% Daily value for the whole meal), the saturated fat is a little high (6 grams for the whole meal) and there are 2 servings in one container. I hate that! There's no way I can cook half or even consider sharing something so delicious. 🙂
Otherwise- 4 stars for you Cedarlane! Delicious!
There are 2 servings per container. Stats are for both servings.
430 calories, 14 grams of fat, 54 carbohydrates, 6 grams of fiber, and 26 grams of protein. You also get 50% calcium needs. woop!
Enchilada Pie Filling (organic black beans, rennetless cheddar cheese, organic green chilis, organic wheat free tamari, herbs and spices, sea salt), Enchilada Pie Salsa Style Sauce (organic tomato puree, organic tomatoes, filtered water, onion, green chilis, organic safflower or canola oil, herbs and spices, cilantro, corn starch, sea salt), Organic Corn Tortillas, Black Olives.
Hey you-enter to win a fancy robe & slippers! in my giveaway!