*I added a GIVEAWAY to this post- scroll down for more info!!*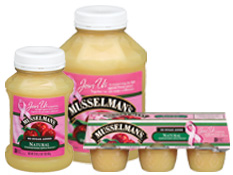 Here's a special pink post dedicated toward Breast Cancer! Musselman company sent me a very nice gift basket with a GIANT bottle of Natural Applesauce (48oz), some recipe cards, and a Pink ribbon magnet (that I immediately placed on my car 🙂 ), along with a bunch of pink fuzzies (those paper things that protect the package…haha. I loved em!) to show their care for Breast Cancer.
Musselman's is having a big promotion during the  month of January and, are donating ten cents to the National Breast Cancer Foundation (NBCF) for every package of Musselman's Natural Apple Sauce that is bought during the month of January. Ten cents may not seem like a lot, but it really is, and every bit makes a difference. This money will be given to the NBCF to help provide education and mammograms to those in need.
 Here is a link featuring Peggy Fleming with her experience of Breast Cancer, and how Musselman's is helping.
So the natural applesauce is quite tasty, and tastes wholesome and pure. You can tell it's made from the real deal- crisp, sweet apples and only apples. It's  not too sweet, and has a smooth feel, but still has a little texture to it (from all the grinded up apples, of course!!).  It's how natural applesauce should taste-without any added sugar, corn syrup, colors, dyes or preservatives.
1/2 cup is 50 calories, 0 grams of fat, 13 grams of carbohydrates, 2 grams of fiber, and 0 grams protein.
Applesauce is also a good swap for oils and butter in baking, and adds mild sweetness to dishes. I'm an applesauce fiend .  I eat it almost as much as I eat peanut butter 🙂 :). Seriously, I eat it on waffles, with my Amy's Enchiladas, mixed with yogurt, pretty much every where! So, here's a yummy recipe I was sent (with some of my own modifications!!) to use this delicious applesauce.
Good Morning Muffins
Ingredients:
-6 tablespoons butter ( I actually omitted this completely and it came out fine-but do as you choose. Just make sure your butter is NATURAL 😛 )
-1 1/2 cups whole wheat flour (or a combination of 3/4 cup whole wheat, 3/4 cup all purpose)
-1 tsp. baking powder
-1/2 tsp baking soda
-1 tsp. cinnamon
-1/2 tsp. salt
– 3 egg whites (or 2 eggs, if you prefer)
-2/3 cup brown sugar
-1 1/2 cups Musselman's Natural Applesauce
-3/4 cup sweetened carob (or chocolate) chips
Directions:
1.Preheat to 375 degrees.
2. Line muffin tin with 12 papers or spray with non stick spread.
3. In small microwave safe bowl, melt butter on high for about 30-60 seconds, allow to cool slightly.
4. Sift together flour, baking powder, baking soda, cinnamon and salt into large bowl.
5.In another large bowl,  whisk eggs and brown sugar. Stir in applesauce and melted butter until mixture is smooth.
6. Pour apple mixture over flour mixture. Mix with wooden spoon and fold in carob/chocolate chips.
7. Fill baking cups 2/3 way with batter.
8. Bake for 20 minutes or until light golden brown.
Enjoy!!
So not only can you fight your munchies- but you can help Breast Cancer. What are you waiting for!?

GIVEAWAY!!!!
Would you like to win the gift basket I won? It includes the 48 oz. jar of Musselman's applesauce, some recipe cards, and a pink magnet for your car, fridge, whatever, all wrapped up in a pretty pink-themed package!
How to enter: (more you enter- more chances you have!!)
1. What are some of YOUR healthy applesauce recipes? What do you like to eat it with? leave a comment
2. Add me to your blogroll leave a comment telling me you did so
3. Get the word out about this giveaway! Put a link on your twitter/blog/googlereader, anything! leave a comment telling me you did soGiveaway will run for a few days only! Winner will be picked Thursday, the 14th! 🙂
*must be a U.S. Citizen, rules & restrictions apply*