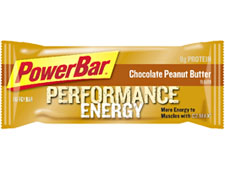 Now, I'm more of a granola bar kinda girl over protein and "energy" bars , because usually they are filled with too much protein (at least in my opinion for what I'm looking for in a bar), too much saturated fat, and too much sugar. However, PowerBar has a line of products that fit everyone's needs. They have ones for pre workout, recovery/post workout, ones with lower sugar, etc, and all of them have all natural ingredients.
 I decided to try the Performance Energy Line with a coupon I was provided with by the company for a free bar- According to the website, here's some info about this bar (Chocolate Peanut Butter flavor) …
"
Provides more energy to muscles with C2MAX
Contains 200mg sodium, a key electrolyte
The original energy bar
Low in fat, with 8–9g of protein per bar
No preservatives or artificial flavors"
These bars come in several flavors, and you know me, I chose the Chocolate Peanut Butter. Because, reallly, when has the combination ever failed?
So, moving on to the bar. It's 2.29 ounces, so about average, I'd say the size of a  Nutri-grain bar, but a little longer. It isn't your typical bar, however. The texture and appearance is chewy and easy to pull apart. It was pretty dense, and had "crispy" rice pieces in it. It was definietely sweet. The chocolate flavor overpowers the peanut butter flavor, and it takes on an almost coffee-ish taste. But, I liked it! It was tasty and I  actually enjoyed it. I DID need a glass of water to drink though while eating. The sodium was a tad high (200 mg) and the combination of chocolate and peanut butter just begged my mouth for some aqua.
Overall, I enjoyed this and will probably buy it again. I give it 4 stars, because it did as it promised. It provided me with a ton of energy- I actually got one of the best workouts despite the fact it was 630 in the morning!   The only thing I didn't like was that it lacked fiber, so it isn't a good "meal replacement" bar. But, that's not really what it's intended for and I think if they increased the fiber too much, it would be harder to digest. I also wish there was a bit more peanut butter flavor in it-but still yummy 🙂
1 bar is 240 calories, 3.5 grams of fat ( 1 saturated), 44 caarbohydrates (26 sugars), 1 gram of fiber, and 9 grams of protein. You also get 25% calcium needs!
C2 MAX CARBOHYDRATE BLEND (ORGANIC EVAPORATED CANE JUICE SYRUP, MALTODEXTRIN, FRUCTOSE, DEXTROSE), OAT BRAN, SOY PROTEIN ISOLATE, RICE CRISPS (MILLED RICE, RICE BRAN, ROSEMARY EXTRACT), BROWN RICE FLOUR, PEANUT FLOUR, NATURAL FLAVOR, NONFAT MILK, AND 2% OR LESS OF: PEANUT BUTTER, CHOCOLATE, ALKALIZED COCOA, CANOLA OIL, VEGETABLE GLYCERIN, SALT, ALMOND BUTTER, MINERALS: CALCIUM PHOSPHATE, POTASSIUM PHOSPHATE, FERROUS FUMARATE (IRON), VITAMINS: ASCORBIC ACID (VITAMIN C), VITAMIN B6 HYDROCHLORIDE, RIBOFLAVIN (VITAMIN B2), THIAMINE MONONITRATE (VITAMIN B1).