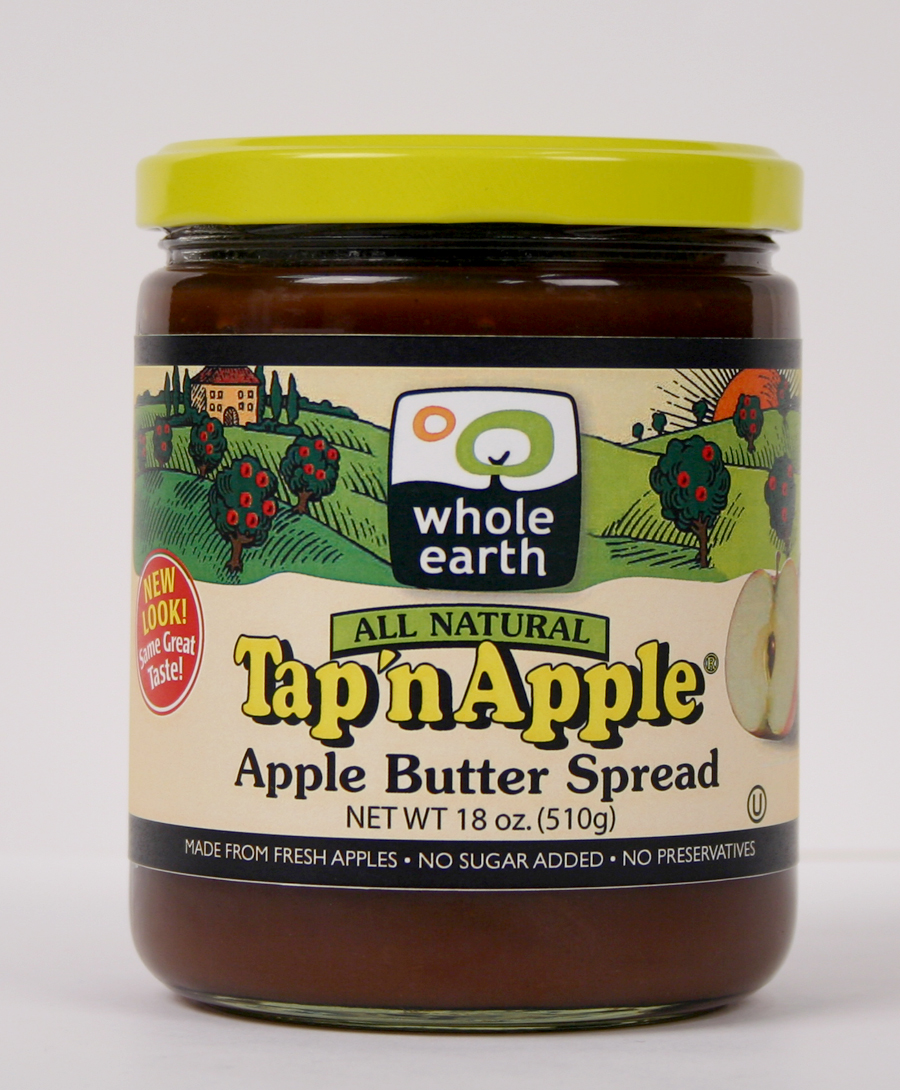 Building off of the previous post of Suzanne's Ricemellow Creme, I thought I would do a review on another new favorite spread of mine, Whole Earth's Tap'n Apple apple butter spread. It has fierce competition with Suzanne's and Vermont Village Cannery's apple butter spread when lunch time rolls around and I have one slice of bread smothered in peanut butter and the other…*naked!*
So, this particular Apple Butter spread is literally smooshed apples in a jar. There is no sugar added, no preservatives, no artificial colors, dyes or flavors, and is naturally fat, cholesterol and sodium free. The company Whole Earth (manufactured by PANOS brands) "began as a little company with big ideas about offering more natural, healthier foods. Since 1967, Whole Earth has lived this passion-delivering the most delicious all  natural tastes!" 😀
Now, let us begin. When you think "apple" the color that comes to mind is…green. BUT. The color of this apple butter is more like this, BROWN. To tell you the truth, I'm  not sure why. Apples have skins of red, green and yellow, and flesh of white, but this apple butter is brown. They do add apple cider, so perhaps that has something to do with the coloring.
Anywho- upon opening the jar, it smells like sweetened applesauce and has a creamy, soft texture. The apple butter tastes like a sweetened applesauce as well (but alas! no added sugar!), but is much thicker and not "grainy" as applesauce can sometimes be. It also has a hint of cinnamon flavoring in the background. To bring that flavor out, I added a heaping tablespoon to the whole jar and just a wee bit of nutmeg, and mixed it throughly. After doing so- the flavor was incredible! Cinnamon-y, apple-y, butter-y! 😉
5 stars for sure !
I like this stuff best, obviously, spread generously on peanut butter sandwiches. But, it was also really good…
1. spread on waffles,
2.mixed in with plain yogurt,
and [don't say ew- it's AMAZING!]
3. A sandwich, with 1 slice of bread spread with 1 The Laughing Cow Wedge Cheese in Garlic & Herb flavor, and one slice of bread spread with the Apple Butter. Such a good combo. Tastes sort of like "cream cheese & jelly". Delish!!
How do you like to eat Apple Butter? Is there a brand YOU like?
Let me know, bloggies!
1 Tablespoon is 20 calories, 0 grams of fat, 5 carbohydrates, less than 1 gram of fiber, and 0 grams of protein.
The ingredient list is also music to my ears…short, sweet & simple.
Apples, Apple Cider.