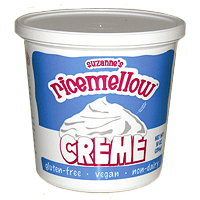 Who want's a fluffernutter? 😀
What's better than the sweet and savory (and ultimately sinful) combination of marshmallow fluff and peanut butter. *Drool*
Unfortunately, the standard "fluff" in the supermarket (as tempting as it looks), is nothing more than corn syrup and refined sugar. Luckily, that's where Suzanne's Specialties comes in. They make vegan, all natural and organic sweeteners and toppings. They do not include refined sugars, cholesterol, fat, GMO's, animal products, preservatives and are gluten free.
I certainly wanted a pb&fluff sammie once I recieved Suzanne's Ricemellow Creme. And look at my result..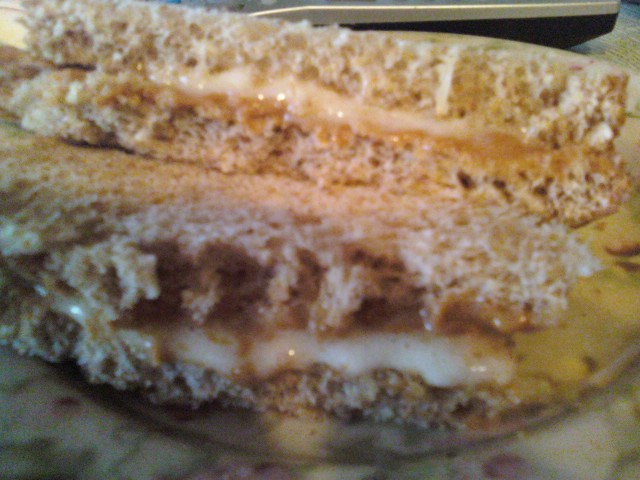 ***heaven***
Clearly, this stuff is amazing. The creme with the peanut butter on some whole wheat bread was the ultimate combination. Sweet, creamy and delectable. I could go for another right now…
When you open the tub of ricemellow fluff, it smells sort of like cotton candy. It certainly is fluffy, however. I think it looks like the inside of a burnt marshmellow. You know, when your all laughing and having a good time roasting marshmellows, and then *GASP!* your marshmellow is on fire! Then the outside is a burnt mess,  but the inside is gooey and delicious. That's what this stuff is. Sweet, gooey (and VERY sticky!!) and delicious. I caught myself several times sticking my knife in after making my sandwich for "just a bit more". This tub is not going to last very long in my house…
Overall, 5 stars for this product. Soooo tasty and, no refined sugar or corn syrup! I also like this stuff paried with… 
1.Newman's Own Cinnamon Sugar Soy Chips, use it as a dip.
2. Chocolate pudding and whole wheat pretzels, place a huge dollop on top. Delishh…
3.Apple Slices. Very good combination. And makes a healthy thing even sweeter. 🙂
Go buy this now!
2 tablespoons is 40 calories, 0 grams of fat, 9 grams of carbohydrates, 0 fiber, and 0 grams of protein.
Brown Rice Syrup, Soy Protein, Natural Gums & Natural Flavors.