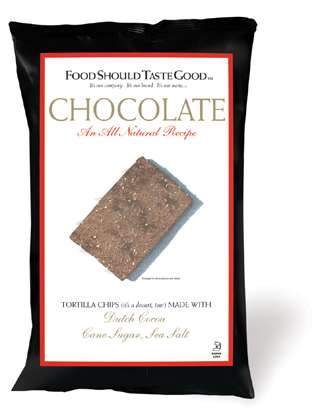 Food Should Taste Good- unless why  bother eating it?
That's what comes to mind when I thought of these flavored tortilla chips. Flavored? you ask. Yep! They come in a bazillion (okay, not that many, more like eleven) varieties, ranging from chocolate to lime. Yum! They are also all natural, gluten free, a good source of fiber, and made without any GMO's.
I was sent these delicious tortilla chips in the mail from the company, and after eating them,  I will not be going back to regular chips anytime soon! Of the ones I was sent, I tried the Cinnamon, Sweet Potato, and Chocolate  Flavors provided so generously by Food Should Taste Good.
anyway-
Cinnamon- These weren't quite what I expected. I was expecting a sweet cinnamon sugar chip-instead what I got was a very strong corn flavor with a hint of ground cinnamon. Now sweet cinnamon as I had expected. It is slightly sweet, but no where near a dessert sugary sweet.
Sweet Potato- this flavor tricks you! At first I was like "oh, normal flavor, where's the sweet potato?". But after-! You get the sweet aftertaste of a sweet potato! It has a very smooth flavor and just the right amount of salt. I like to think it's one of the healthier ones because I'm technically eating 2 veggies at once- corn & sweet potatoes 😛
Chocolate- This one was my favorite, and not what I expected. I thought it was honestly going to taste funky, but it was actually really good! The flavor is caught between a chocolate graham cracker and a tortilla chip. It's salty at first, then you taste the corn tortilla, and then a dark chocolate flavor shines through. It was very good, and left that "I just ate CHOCOLATE" flavor in my mouth.
Overall, I give these 4 stars. They are a healthier alternative to potato chips, have some rather interesting flavors & pack some fiber as well. They can also be combined with various spreads and dips to create really-good concoctions. Let me know if you have any of your own!!
The ingredients are also pretty much the same for all, with spices and extra flavors added depending on the variety. Check the website here if you are interested.