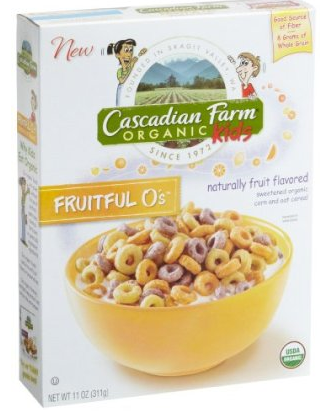 Cascadian Farm makes tasty foods, ranging from cereals, granolas, frozen foods, cereal bars, etc.  that are all organic. According to Cascadian Farm, "Our organic foods are grown without the use of synthetic pesticides, chemical fertilizers or genetically engineered ingredients." This also means no preservatives or nasty artificial colors or flavors. As a bonus– the companies farming methods help protect and preserve our environment. Way to be, Cascadian Farm!
So I went to Waldbaums the other day and I went to pick up my usual cereals, when I spotted this new cereal Fruitful O's. They were naturally fruit flavored, instead of artificially flavored. I decided to revel in my childhood and buy a box. It was a bit pricey, all organic food usually is, but I wanted to try this new cereal.
So, I opened up the box when I got home and poured myself a bowl. They came in colors yellow, orange and purple. I really liked how the serving size was 1 cup  and still only had 120 calories. Plus, there was a LOT of Fruitful O's in my bowl with just 1 cup!
The taste was actually quite good, however it was much  better in some vanilla almond breeze or skim milk than dry. When they were dry, they were sweet and crunchy, with a mostly orangy fruity flavor. However, when I had them with milk or almond milk, the flavors really shown through, and they wer actually sweeter. Normally when I add milk to my cereals, I notice it gets soggy fast and the flavor disperses in the milk. This didn't happen as quickly with this cereal. I usually have a method for this, as I like my cereal when it's a tad soggy from the milk, but still has a crunch. I measure out how much I want, put half in a bowl (usually with a sliced banana), add the milk (and ice cube, of course! 😉 ) and then I add more cereal as I go along. Keeps the flavor and the crunch going!
Overall, I was impressed. Cascadian Farms' brand is also made with whole grain oat flour and has 3 grams of fiber per serving.  There is also no partially hydrogenated oils or artificial colors/dyes.
I give Fruitful O's 4 stars. I think it's good to mix in with some higher fiber cereals, or to have a bowl as a snack (the cereal alone probably won't hold you over very long).
1 cup is 120 calories, 1 gram of fat, 27 carbohydrates, 3 grams of fiber, and 2 grams of protein. It is also fortified with vitamins and minerals, like calcium (10% per bowl), iron (25% per bowl) and zinc (35% per bowl).
la la loving the organic ingredients
Whole Grain Oat Flour, Corn Meal, Sugar (from cane), Tapioca Syrup, Oat Fiber, Wheat Starch, Sea Salt, Sunflower Oil, Color (elderberry juice concentrate, turmeric and annatto), Fructose, Natural Flavor.