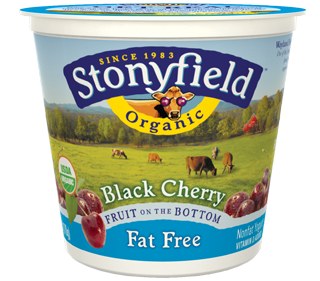 I. love. yogurt.
I'll be honest, I probably eat a yogurt once or even two times a day. And, one of my favorite brands for flavored yogurts is Stonyfield Farms. I enjoy several flavors they have to offer, and try to keep my refrigerator stocked with their yogurts at all times 🙂
(I also love how the cartoon cow above the word organic on the front of the cups always seems to have something to go with each variety. For example, on this cup I think he has "cherries" covering his eyes, for the Strawberry Fruit on the Bottom yogurt, he has "strawberries" over his eyes! I think it's cute!)
So, as a change from the standard blueberry and strawberry yogurts I usually have for the fruit on the bottom options, I decided to try the Stonyfield Farm Organic Fat Free Fruit on the Bottom Black Cherry yogurt. Cherries usually remind me of the summer- a fruit I usually nosh on at the beach, at my house, wherever! They are a great and delicious fruit.
What I love about Stonyfield Farm yogurts is the consistency. Even the fat free versions have a creamy and thick texture to the yogurts that I love. This one also did not let me down. The yogurt on top had a very faint hint of cherry flavor, otherwise was plain. On the bottom, was the delicious cherry part. It was more of black cherry preserves for the consistency- it was jelly like with bits of cherries scattered throughout, and dark in color. It wasn't too tart, but not overly sweet. There was also a decent  amount of the fruit. As a whole, I enjoyed this yogurt. I like that it tasted real and pure. I do wish it was a tad bit sweeter, but overall, a very refreshing and delicious yogurt.  Although there is added sugar, there is no high fructose corn syrup or artificial sweeteners/flavors. Woohoo! 4 stars 🙂
One 6 oz container is 120 calories, 0 grams of fat, 22 carbohydrates, less than 1 gram of fiber, 22 grams of sugar, and 6 grams of protein.
Cultured Pastuerized Organic Nonfat Milk, Organic Cherries, Naturally Milled Organic Sugar, Pectin, Natural Flavor, Organic Elderberry Juice Concentrate (for color), Vitamin D3.