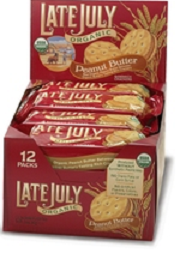 Ah, peanut butter. On fruit, on a sandwich, or straight from the jar, it's definitely one of my favorite foods. Another great way to enjoy peanut butter is with Late July's Organic Peanut Butter Sandwich Crackers. According to the wrapper, these crackers are "real organic peanut butter between organic buttery tasting rich crackers". Can we say, yum? 🙂
The people over at Late July sent me a package of the peanut butter sandwich crackers to try. They have 4 sandwich crackers per package, each lightly sprinkled with salt, and a golden yellow color. The crunchy cracker part was delicious. I agree with the wrapper for the "buttery tasting rich crackers" part- very true! The peanut butter was rich and thick, and slightly sweet. I do wish that there was a bit more peanut butter in between the two crackers, but it was still tasty.
Overall, these get 4 stars. I liked that these sandwich crackers came in a pack of 4, which was conveinent for a peanut butter lover like me. I could see myself eating more than 4- they were delicious! You also get 4 crackers for 160 calories, a satisfying snack with a glass of milk, some fruit, or even by themselves. What I didn't like was that they are low in fiber, and made with wheat flour instead of whole wheat flour. Otherwise- I would give these a try, especially if you like peanut butter!
1 package (37 grams) is 160 calories, 8 grams of fat, 17 carbohydrates, 1 gram of fiber, 2 grams of sugar, and 4 grams of protein.
Organic Wheat Flour, Organic Peanut Butter (dry roasted organic peanuts, organic palm oil, organic sugar, salt), Organic Oleic Safflower Oil and/or Organic Oleic Sunflower Oil, Organic Evaporated Cane Juice, Organic Palm Oil, Sea Salt, Leavening (baking soda, ammonium bicarbonate, cream of tartar), Soy Lecithin (an emulsifier), Enzymes.