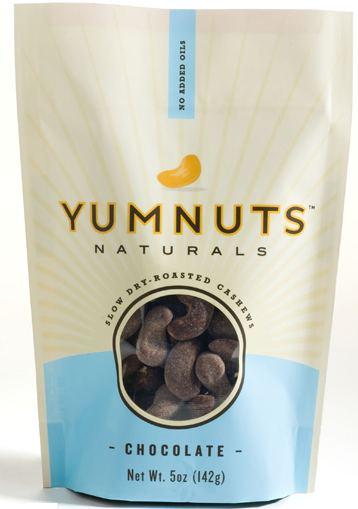 Combining two of my favorite things- chocolate and cashews, is Yumnuts Naturals. This company makes these snacks without any artifical colors, flavors or preservatives, no added oil, and they are gluten free. They come in 6 flavors, Sea Salt, Spicy Cajun, Toasted Coconut, Honey , Chocolate and Chili Lime. According to the website, "Nuts contain the protein, smart fats, like oleic acid, and essential minerals to help us perform at our best. We use the best natural ingredients to create a product with a simple ingredient statement that is both healthy and yummy. We start with premium jumbo cashews and use a special flavoring technique to add a delicate dose of delicious seasonings that ensures that every Yumnut, in every batch is truly yum."
The folks over at Yumnuts Naturals sent me the Chocolate Slow Dry Roasted Cashews to try, and I was so excited! I opened the bag up once I received them, and had a few. I can certainly agree with the "YUM" aspect of this product! These were awesome! I especially liked that the cashews were pretty big- and there weren't a lot of halves or pieces in the bag. Each buttery tasting cashew was covered with a sweet, light chocolatey coating, that gave a little bit of a crispy crunch to the outside. Really delicious, and what a snack! It satisfied both my hunger and my sweet tooth, and it certainly was hard to put away the bag after having some of these!
These get 4 1/2 stars in my eyes. Absolutely delicious and just a great alternative when you want something both savory, satisfying AND sweet!  The ONLY reason these don't get 5 stars is because they have added sugar, but is still only 6 grams of sugar per serving.
*You can try these Yumnuts Naturals for yourself! From now until JULY 29th 2010, you can get 25 % discount off your purchase from the website when you put in the coupon code NUTS25 * How great is that! 🙂
1/4 cup is 160 calories, 11 grams of fat, 12 carbohydrates, 2 grams of fiber, 6 grams of sugar, and 4 grams of protein.
Dry-Roasted Cashews, Honey, Sugar,  Cocoa Powder, Milk Powder, Soy Lecithin.