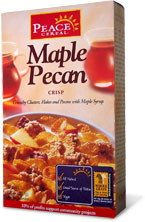 THREE of my favorite things combined in one- maple, pecan, and cereal. Peace Cereal sent me some coupons to try some free products, so as I browsed the aisle at Whole Foods, I saw this cereal, and my heart lit up. MAPLE PECAN CRISP CEREAL! 😀
This cereal had corn flakes, oat clusters, and pecans. I liked that it had 5 grams of protein per serving, and that a serving was one cup. I opened my box once I got home, and the first thing I noticed was that it was sort of "separated". All the corn flakes were on the top, and most of the oat clusters on the bottom. No worries, I thought, and I just shook up the bag a bit.
The cornflakes were actually quite large, bigger than what I'm used to. I do kind of wish they were a tad smaller, but I really liked that they had a nice crunch to them. Other than that, they pretty much tasted like corn flakes. Very lightly sweetened, crunchy, and just good.
The oat clusters were absolutely DELICIOUS. Big, crunchy and sweet, they were the best part of the cereal. They had a wonderful maple and cinnamon flavor, and I literally picked out most of them out of my box. So… now I'm pretty much left with a box of the cornflakes and a few remnants of oat clusters. heh 🙂
As for the pecan part, there actually were a pretty decent amount. Not a bunch, but there was a good amount of halves/big pieces of pecans. I liked that it wasn't just little "itty  bitty pieces" of pecans- and that I could actually pick some out of the box and taste them.
Overall, I would eat this cereal again. I liked how it had a light and sweet maple flavor, and was just a good crunchy cereal. Aside from snacking on it dry, I had it with some almond milk and a sliced banana, and it was very delicious! I also liked that it had 5 grams of protein per serving, so there was some satiety with the cereal. One cup is 240 calories, which is a bit high (especially for a snack-out-of-the-box girl like me!), but I think it was a good breakfast with the banana and almond milk. I also didn't really like that sugar was the 3rd ingredient listed. So, I give it 4 stars, and can see myself buying this in the future (especially for those DELICIOUS oat clusters!!) 😀
1 serving (1 cup) is 240 calories, 6 grams of fat, 42 carbohydrates, 3 grams of fiber, 11 grams of sugar, and 5 grams of protein.
Corn Flour, Whole Rolled Oats, Milled Cane Sugar, Rice Flour, Vegetable Oil (Canola and/or Safflower and/or Sunflower Oil), Pecans, Barley Malt Syrup, Maple Syrup, Cornstarch, Brown Rice Syrup, Salt, Natural Flavor, Organic Cinnamon Bark, Annatto (for color), Turmeric (for color), Purple Carrot Juice (for color), Organic Ginger Root, Organic Cardamom Seed, Organic Black Pepper, Organic Clove Blend.