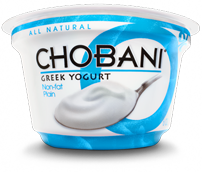 We all know (or hopefully know) how much I looooove yogurt! It's my healthy and usually sweet treat I make sure I eat everyday! Along with regular yogurt, I also enjoy greek yogurt. Although I normally go for flavored ones, Chobani sent me their 0% Plain Greek Yogurt to try.
The first thing I noticed was that a 6 oz cup is ONLY 100 calories, and 18 grams of protein! I was immediately impressed by that, since I'm not a big meat eater and need dairy/soy/eggs for my main sources of protein. PLus, that is very LEAN protein! No fat, and only 100 calories! Nice!
The texture was super thick and creamy, just like I like it. Unfortunately, I do not really enjoy greek yogurt plain. I did try some of this without anything mixed in or added, and found it rather tart for my likings. So, what could I mix with this? Well, I took some regular chocolate frozen yogurt and mixed it with the greek yogurt and let it freeze for a bit in the freezer. Voila! Yummy chocolate taste, and a boost of protein, with an additional creamier texture.
Overall, I give this 4 stars. Although I would probably never eat it as is, I can always mix something in to sweeten it. I have in the past also used those ranch seasoning powder mixes with plain greek yogurt instead of sour cream, and found that to be an excellent swap. I love that this is high in protein, low in calories, has 0 grams of fat  per 6 ounce serving.
Which makes me curious…
What do you like to mix in with plain greek yogurt? If you'd like to leave a comment, please do so below! : )
1 6oz yogurt is 100 calories, 0 grams of fat, 7 grams of carbohydrates, 0 grams of fiber, 7 grams of sugar, and 18 grams of protein.
Cultured Pasteurized Nonfat Milk.