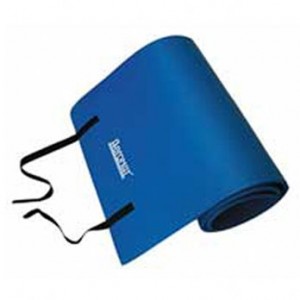 A little while ago, I posted about getting a free gift card from CSN stores to buy something online at their stores. What did I choose? The AeroMAT Fitness Mat. I always wanted a mat to use at the gym that would be soft and cushiony, and would allow me to do abdominal work without feeling the floor underneath my mat!
So I put this mat to the test and took it to the gym. I really liked the color- bright and cheery blue! I also liked that the straps were attached to the mat so it couldn't fall off. One thing I wish it would have had is another strap attached to it so I could hang it on a hook- I don't like to leave things on the floor if I don't have to.
Anyway- I used this primarily for abdominal work. When I laid down on it, I noticed it was pretty cushiony and offered really good support. I couldn't tell that I was laying on a hard floor. I also really liked that it had a good grip. Ever do crunches and notice that the mat seems to inch up and up and up until part of you is laying on the floor? That happened to me a lot with my last mat. But not with this one! It stayed in place the whole time.
Overall, so far it's a really good mat! Love the cushioning and the support, I just wish it had a strap to hang it up with. Overall, 4 1/2 stars.
What's your favorite abdominal exercise or something to strengthen your core muscles? I like the plank, followed by the bicycle crunches!