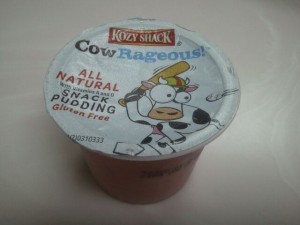 I love pudding. In fact, I eat a chocolate pudding cup every day. I love the sweetness, the creamy texture, everything about it. So, at the store the other day, I went to purchase my chocolate pudding but I saw something new on the shelf- CowRageous! pudding, in STRAWBERRY flavor, by Kozy Shack. You know I was tempted. Well temptation won, because not only did I buy the strawberry pudding, but I also bought the chocolate pudding as well (you know, just in case!!)
First off, I loved the cartoon cow- how cute! I also love how this is made with natural ingredients, is gluten free, and has some fiber and calcium per cup. It was a bit on the small side, so I do wish that the serving was bigger.
Anyway, I opened up the cup and decided to have it with some fresh strawberries (and whipped cream, because, well, why not!?). Here's what it looked like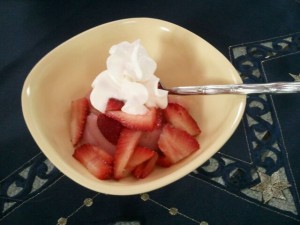 As you can see, my strawberries and whipped cream kind of swallowed up the pudding. Not a lot of pudding in the cup, but that's what toppings are for!
It was thick and creamy, almost like a gel/pudding consistency, with more of a vanilla flavor with strawberry undertones. It wasn't really all that sweet, I was expecting sweeter. In fact, my strawberries and the whipped cream were sweeter than the pudding. It also had a bit of a funky aftertaste, but nothing too overpowering. It was pretty good snack, and I enjoyed it, but it certainly won't replace my love for my usual- the chocolate pudding.
Overall, 3 1/2 stars. It's only 100 calories with 3 grams of fiber and 10% of the calcium needs per pudding cup. It was a bit small, however, so I would reccomend eating it with something else as well.
1 pudding cup is 100 calories, .5 grams of fat, 18 grams of carbohydrates, 3 grams of fiber, 14 grams of sugar, and 3 grams of protein.
If you could invent any flavor pudding, what would it be? I would do chocolate chip cookie dough pudding, or peanut butter! Mmmm! =)