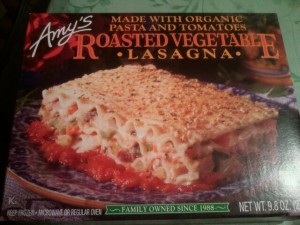 This is the BEST frozen lasagna I had ever had- and the most unique. I cooked this in the microwave, and let it sit for 2-3 minutes as directed (certainly difficult to do since I was hungry and it smelled GOOD!!). Here's how it looked out of the microwave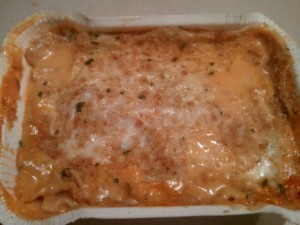 To start off, unlike any lasagna I ever had, it had breadcrumbs on the top, kind of like baked macaroni & cheese. It also had a creamy, cheesy sauce on top, followed by lasanga noodles, veggies, and then marinara sauce on the bottom.
First bite, I fell in love. The gooey and cheesy sauce on top had a cheddar flavor, which went so good with the breadcrumbs on top and the noodles. I do wish the breadcrumbs were a bit crunchy, so perhaps I'll put this on broil in the oven for a few minutes before I eat it in the future.
The noodles were chewy and soft, and I saw broccoli, zucchini and the occasional small mushrooms for the vegetables. The veggies were soft, but still had a bite to them, so they weren't mushy. There was also a bit of a black pepper flavor.
The sauce on the bottom tasted fresh, and reminded me of a more traditional lasagna of tomato sauce and cheese with noodles.  I noticed throughout the lasanga everything wasn't dry at all, even a tad bit liquidy.
Overall, really, really good. Unique, and delicious, and quite filling too! I had it with some steamed broccoli (you know me!) and thought it was a perfect dinner. This one gets  4 1/2 stars : )
1 lasagna is 350 calories, 11 grams of fat, 47 grams of carbohydrates, 4 grams of fiber, 9 grams of sugar and 16 grams of protein.
What's your favorite thing to use bread crumbs with?