Ok. I'm an avid frozen yogurt fan- and so far, this is one of the best places I have ever been to. I've been there a few times, and decided it needs a review on this website for all of you to hear about and perhaps go enjoy it, too!
One word that comes to mind? AMAZING.
I walked in, and went to the back of the store. They had a few "stations" if you will, with the flavors named and handles to pull. It's self-serve! Pick as much or as little as you want! For obvious reasons (such as it's pure awesome-ness) I went for the peanut butter flavor (how could I NOT get the peanut butter?)
Then, there was a topping bar, that had pretty much everything from fruity, to sweet, to crunchy. I saw cheesecake bites, cookie dough bites, brownie bites, mango, lychee, bananas, and so much more. I went for cookie dough bites and banana this time.
Here's what my cup of deliciousness looked like.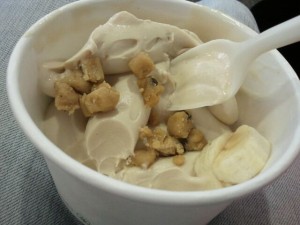 Then, they weighed my cup, I paid, and enjoyed!
The peanut butter flavor was phenomenal. Super creamy, sweet, and savory at the same time. Literally, I wish I could buy this by the gallon. I think it was almost exactly like soft serve ice cream in consistency. In fact, if you told me it was ice cream, I would have believed you!
The cookie dough was also delicious. Just like the cookie dough that comes in ice cream tastes. Soft, sweet, buttery and just perfect. I saved all of mine for the end and ate them all ate once- a cookie dough blob, I guess you could call it.
And lastly, the banana slices, fresh and mildly sweet. Sort of like when I eat a banana that's perfectly yellow with no brown spots- it's sweet, but not super sweet, and still has a good amount of firmness to it.
Overall, do I recommend this place? (is that a serious question?) Of course I do!!! I would give it 4 1/2 stars. Some of the yogurt is a bit high in sugar, but I love the idea of this place. You get to choose exactly what you want!
Have you ever been to 16 Handles? What's your favorite flavor and/or toppings?