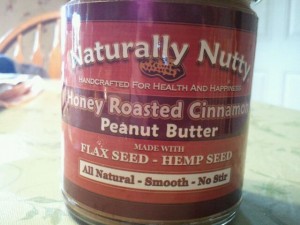 Reviewing one of my favorite things… peanut butter!
I recently ordered a few jars of Naturally Nutty peanut butter online, and one of them that interested me was the Honey Roasted Cinnamon Peanut Butter. C'mon, how good does that sound!?!?
According to the jar, it's "made with Flax Seed" and "Hemp Seed" and has "omega-3 (ALA): 370 mg per svg. [serving]". So, aside from the honey, there was cinnamon, peanuts, and some great nutrition facts!
I opened the jar, and noticed very minimal oil on top (hardly any)- a good sign for me already. As much as I love the natural peanut butters, I'm not a huge fan of stirring and stirring a jar of nut butter to get it to set. I took a spoonful, and here's what it looked like.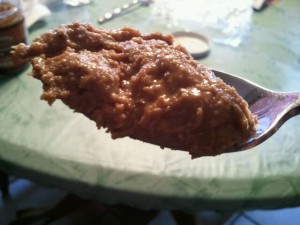 I LOVED the consistency of this peanut butter. Not runny, but not stiff. Very thick and almost hearty, and while it wasn't super smooth, it wasn't chunky either. It stated it was "smooth" on the jar, but I would say it was more of an inbetween.
As I opened the jar, it had a nice fresh cinnamon smell to it. I tasted a bit, and unfortunately wasn't as happy as I thought I would be. It kind of had an overpowering cinnamon flavor to it, without enough sweetness to back it up. In fact, where was the honey? All I tasted was peanut butter and cinnamon. It did have a rather delicious peanut butter flavor- thick, rich, just like peanuts you'd eat out of a bowl. But it wasn't sweet, and I was disappointed.
Overall 3 stars. A good peanut butter, but not what I was expecting. Where's the honey!?!
2 tbsp. is 190 calories, 16 grams of fat, 7 grams of carbohydrates, 3 grams of fiber, 2 grams of sugar, and 7 grams of protein.
Have you ever tried Naturally Nutty products? Which is your favorite?