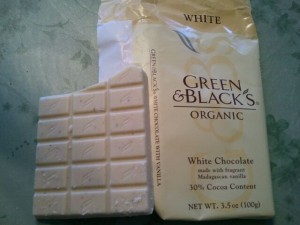 What's Valentine's Day without some CHOCOLATE?
Reviewing one of my favorite types of chocolate today… white chocolate! I'm also a fan of milk chocolate, but whenever I see white chocolate, it feels special, and it's just so yummy!
I bought this bar the other day at Whole Foods, I believe it was on sale for 2 for $5.00, so I thought why not? I opened the bar to find that the squares were rather small, and had a nice, sweet vanilla aroma. It sort of reminded me of Easter time, when there's a lot of chocolate bunnies and other treats around the house.
So I broke off a few squares and indulged. Mmm. Now this is really good white chocolate!! Super smooth and buttery in consistency, sweet without being sugary tasting, and a great vanilla flavor. I liked that the flavor was light enough so it wasn't overpoweringly sweet, but rich enough to make a few squares all I needed to  be satisfied. Delicious! 4 1/2 stars.
12 pieces (40 g) is 230 calories, 15 grams of fat, 9 grams of saturated fat, 21 grams of carbohydrates, 0 grams o fiber, 20 grams of sugar, and 3 grams of protein.
What's your favorite Valentine's Day treat?