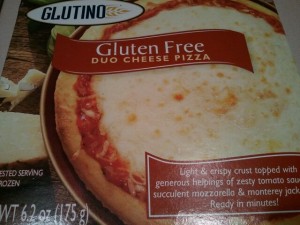 Reviewing today, Glutino Gluten Free Duo Cheese Pizza! What sparked me to buy this? I actually have no idea! It looked interesting, and I'm pretty sure I never had a gluten free pizza before. Sometimes I really enjoy gluten free products, and other times, the consistency throws me off. Anyway, I was willing to give it a try!
I looked at it frozen- I was slightly disappointed on how thin the crust was! (but I love this picture!!)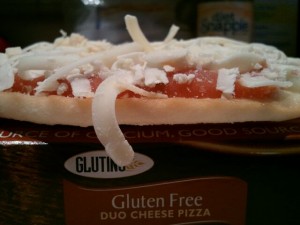 I happen to like thick crusted, chewy/doughy pizza as opposed to thin crust. However, who knows, it could still be super yummy!
So I cooked it at 425 degrees F for 12-15 minutes as the box told me to, except at 9 minutes I noticed it was getting very crispy. I transferred it to a pan for the remained of and here's how it looked.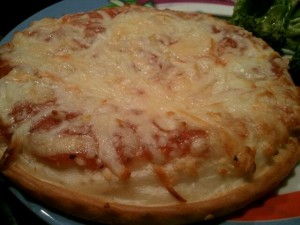 I steamed up some veggies on the side, and cut the pizza in fours to eat. One thing I liked was that I noticed the pizza wasn't super greasy, which is a turn off for me.
The bottom of the pizza was crispy, and the top part was rather doughy and soft. I didn't know if this was becasue I transferred it to a pan or not, but either way it was delicious.
The cheese was chewy, and not super stringy, it stuck together on the pizza quite well. I predominately tasted mozzarella cheese, although the ingredients say that there is monterey jack cheese as well. Under the cheese was a smooth, flavorful sauce, that had just the right amount of zest to it.
All together, really tasty! I do think it needed just a touch of salt, but nothing too dramatic. If I hadn't known it was gluten free, I wouldn't have known. Flavorful, and quite delicious, I would buy it again. I don't remember how much I exactly spent, but I remember it was a little expensive- somewhere around 5 dollars. But, I would still get it again! 4 stars
1 pizza is 310 calories, 12 grams of fat, 40 grams of carbohydrates, 1 gram of fiber, 4 grams of sugar and 12 grams of protein.
What's your ideal pizza? I happen to be a fan of a lot of sauce, light on the mozzarella, some type of vegetable, and lots of parmesan cheese!!  : )