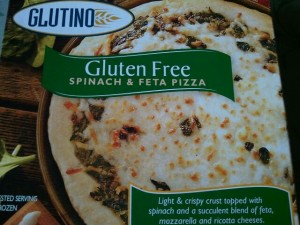 First off, HAPPY ST. PATRICK'S DAY! I am, indeed wearing Green as I type this.
Moving on to some more green , the Glutino Gluten Free Spinach & Feta Pizza! I tried the Duo Cheese Pizza and thought it was rather tasty, so I decided to buy the Spinach & Feta version.
First off, I thought it was funny how it came out of the box. Look how off centered the topping was!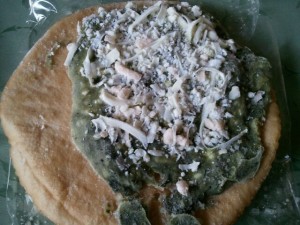 Anyway, I cooked it in the oven and smeared the topping a bit more evenly on the pizza and paired it with some steamed broccoli. I felt all the green was appropriate for St. Patty's Day.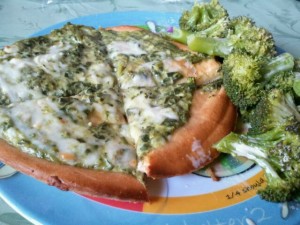 First I looked at the pizza, and saw it was a bit greasy. However, not the best decision to blot the pizza, as some of the cheese stuck to my napkin, so I left it as is (oops!).
At first bite, I thought it was kind of bland. But as I continued to eat it, I actually really enjoyed it. The spinach and the cheese were very rich, and really quite salty. The cheese was stringy and with the spinach had a very parmesean and mozzarella cheese-like flavor. The edges of the pizza were very crunchy and crisped up fast. As for the flavor of the crust, it was okay. It was kind of like a plain breadstick.
Overall, a very different pizza than what I'm used to. I almost missed the tomato sauce flavor! However, it certainly was tasty, and a bit salty too. There was 840mg of sodium in one pizza, which I thought was a tad high. Yet, I would get it again. 4 stars
1 pizza is 300 calories, 11 grams of fat (5 saturated), 38 grams of carbohydrates, 2 grams of fiber, 2 grams of sugar and 11 grams of protein.
What's your favorite kind of pizza besides the tomato sauce and cheese combo?