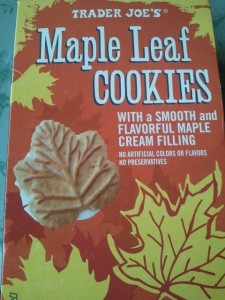 Maple is definitely one of my favorite flavors. I couldn't imagine waffles or french toast without maple syrup, and I LOVE it with scrambled eggs. So when I saw these Maple Leaf Cookies at Trader Joe's, I just had to buy them!
On the cover, it states that it has a "smooth and flavorful maple cream filling" along with having "no artificial colors or flavors" and "no preservatives". It already sounded like my kind of cookie 😉
Here's what one of the cookies looked like out of the box.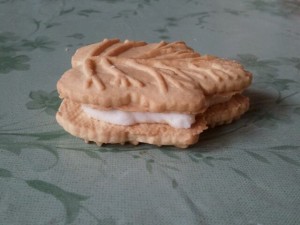 I took a bite. Mmm. This was delicious. The cookie part was buttery and had that soft-crunchy texture. It reminded me kind of like a shortbread cookie. The cream was absolutely delicious as well. Very sweet, with a maple/vanilla flavor. Together it was just an awesome combination. This box of cookies will not last too long in my closet  ;]
Overall, another delicious find from Trader Joe's. I would certainly buy these again. Perfect on it's own, or I'm even tempted to try them with a smear of peanut butter or a glass of milk. A drawback would be the 2 grams of saturated fat per cookie and that it lacks fiber, but these really are delicious! 4 1/2 stars
1 cookie is 110 calories, 5 grams of fat, 2 grams of saturated fat, 16 grams of carbohydrates, 8 grams of sugar, 0 grams of fiber and 1 gram of protein.
What's your favorite maple-flavored thing?