I happen to be a big fan of Clif Bars. My all time favorite ones would have to be the Chocolate Chip and White Chocolate Macadamia Nut and also the Clif Crunch Peanut Butter & White Chocolate Macadamia Nut Granola Bars. They have some pretty tasty foods!
Today's review is the Blueberry Crisp Energy Bar that I was sent to try for free. I wasn't exactly thrilled in the beginning to try this one for some reason, I like blueberries and all but I thought they might taste funky in a granola or energy bar. But who am I to judge something solely on it's name or appearance? Speaking of which, here's how it looked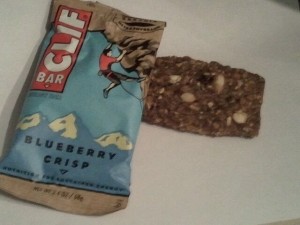 The thing that always gets me about Clif Bar & Company energy bars is that they seem tiny, but they actually ARE quite filling. I find them perfect to eat on an empty stomach for an early morning workout before I eat breakfast or whatnot to tie me over.
When I opened the package I immediately smelled a fragrant blueberry aroma. I took a bite, and noticed it was actually pretty sweet. Not sweet like candy, but I could certainly detect a good amount of sweetness. It kind of reminded me of a blueberry filling to a pie or a blueberry pancake syrup sort of flavor. It was crunchy from the almonds, chewy, and soft at the same time. I actually really liked the consistency of this bar, it had a lot going on. There were good sized pieces of nuts, which were fresh and crunchy, and added something special to the bar.
Overall, this bar was better than I thought it would be, and actually quite tasty. THe only drawback for me is that it has 21 grams of sugar per bar. Then again, I believe it's intended to be an energy bar, so I'm sure some of those carbohydrates and sugar will we used up in the workout! 4 stars
1 bar is 240 calories, 5 grams of fat, 43 grams of carbohydrates, 5 grams of fiber, 21 grams of sugar and 9 grams of protein.
Did you ever eat something you thought wasn't going to be that good, and it surprised you? What was it?