Before the review, I believe today's the day, HAPPY 1- YEAR BLOGGIE BIRTHDAY TO ME! (www.healthnuttxo.com!) It's been a real treat! I love blogging, and you readers make it all worthwhile!!
So what better way to celebrate then with some ice cream, err frozen yogurt? (even if I did eat it yesterday…)
Yesterday I went into the Haagen-Dazs shop looking for a sweet and cool treat. I saw that they had frozen yogurt available, in No Sugar Added Chocolate, No Sugar Added Vanilla and swirl. I asked for a regular sized swirl, which was about $5.00.
When I got my order, it was actually just vanilla. Where's my swirl of chocolate and vanilla?!?! I wondered. Oh well. Plain vanilla was fine with me. Here's a pic of my fro-yo.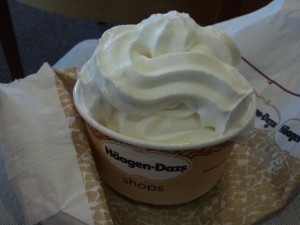 Oooooooh yeaaa. Creamy!
I took a spoonful, and at first taste, I thought of vanilla rice pudding. It was sweet, but not sugary tasting. It had a fluffy, soft-serve ice cream consistency. It sounds and looks really good, but unfortunately, I really did not enjoy this frozen yogurt. What completely ruined it for me was the aftertaste. It had this weird, tangy, off aftertaste. I'm assuming perhaps some artificial sweetener was added? I'm not really sure what the ingredients are, but I did not like this.
Overall, MAYBE I would get this again in a swirl, but I would not get it again by itself. It was pretty expensive (so of course I finished it!), and the quantity wasn't a concern- a good amount was given. I liked the consistency, but this overall was not my favorite. 2 stars
What's your favorite product from Haagen-Dazs?