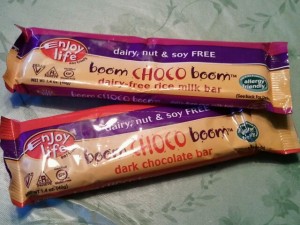 Chocolate! Nothing is better than chocolate. Ok maybe peanut butter, but there's room for debate on that one. ANYWAY, EnjoyLife sent me some boom CHOCO boom bars to try for free. I already reviewed the Rice Milk with Crispy Rice variety here, and thought it was pretty good. Today's review is on the Dairy-Free Rice Milk Bar and the Dark Chocolate Bar.
Both these bars are free of nuts, soy, dairy, gluten, wheat, fish, shellfish,  and eggs as stated on the wrapper. They are also both vegan.
I tried the dark chocolate one first, although hesistantly. As you probably know, I'm not a huge dark chocolate fan. I love the health benefits, but not a fan of the bitterness (Why can't milk or white chocolate be as healthy as dark chocolate!!!??) I DID like how cute the squares were. Here's a picture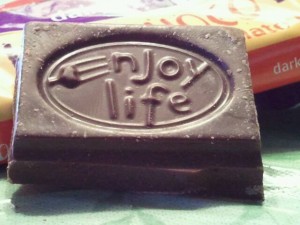 So, I took a bite of the square, which was rather thick and had a nice bite to it, and was pleasantly surprised. Not as bitter as I thought it would be! It was creamy, actually kind of sweet, and there was a vanilla aftertaste as well. Pretty good! 3 1/2 stars
Next up, the Dairy-Free Rice Milk bar. At first this one was smooth and sweet, but as I continued to eat it, I noticed it had some kind of an aftertaste. Hmm. Have you ever had sugar free chocolate? I have, and I always noticed it had some sort of an aftertaste which was similar to what this bar had. Also what I found odd was that I could almost taste milk in this bar, despite the fact that it was dairy-free. Bizarre. It was OK, but not my favorite. 3 stars
Well, look at that! I actually liked the Dark Chocolate one more than the Dairy-Free Rice Milk bar! Go figure 😉
Dark Chocolate boom CHOCO boom bar– 1 package is 200 calories, 15 grams of fat ( 9 saturated) 22 grams of carbohydrates, 3 grams of fiber, 17 grams of sugar and 2 grams of protein.
Dairy-Free Rice Milk boom CHOCO boom bar– 1 package is 230 calories, 17 grams of fat (11 saturated), 21 grams of carbohydrates, 1 grams of fiber, 17 grams of sugar, and 1 gram of protein.
If you could invent your own chocolate bar, what would it have in it? I would have a peanut butter filled milk chocolate bar with bits of banana in it. MMM!