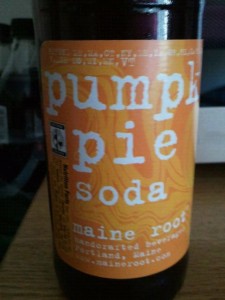 Pumpkin Pie Soda. Say whaaaaaat?!
I saw this in Whole Foods, and KNEW I had to try it. Really? Pumpkin Pie soda? How can that even be?!
It came in a 6 pack, or individual. I thought it would be best to try one, and then if I (hopefully!!) liked it, go back and buy the 6 pack of these sodas. I mean, how on earth could Pumpkin Pie Soda taste bad, given the fact I LOVE pumpkin, LOVE pumpkin pie, and well, not going to lie, soda is yummy too!!
I opened up the top and poured some out. It certainly screamed pumpkin with the color, and it even smelled like pumpkin. We were headed off to a good start.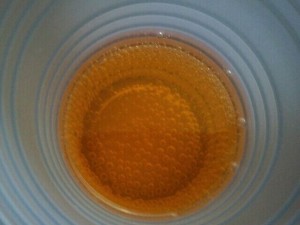 Eagerly, I took a sip.
🙁 Gross.
In fact, it turned my stomach a bit. It was nasty. It really was not good at all. Upon first taste, ALL I tasted was sugar. It had this syrupy, sugary taste to it. Almost like a artificially flavored pumpkin lollipop would taste if it was melted down and carbonated.
It had somewhat of a vanilla creme flavor too, but it was not good. BLECH. I only took two sips and poured the rest out.
OVERALL, my first 1/2 star rating. I would never buy or drink this again. And I'm really disappointed because I really wanted to like this!!!!!
Here's the nutritional facts, which also aren't pretty. And no wonder it was so sweet, look at all that sugar!!