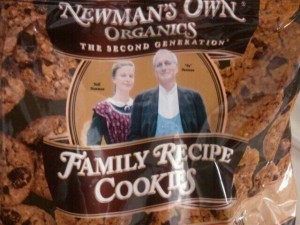 AS IF we need any more treats to eat with the upcoming holidays, I'm going to put these on your list of goodies to buy and eat too. Newman's Own Organics sent me a free bag of their Oatmeal Chocolate Chip Cookies. I couldn't really say no. It's simple logic. I love Newman's Own Organics. I love Chocolate Chip Cookies. I love oatmeal (does that work?) SO- voila! I must love Newman's Own Organics Oatmeal Chocolate Chip Cookies….no?
At first, I looked at the nutritional facts. SWEET, I thought. 1 serving was five cookies. I like when servings are more than 1 or 2, or half…. (I know some cereals where 1/4 of a cup is a serving. WHAT? WHO eats 1/4 cup!?!?)
But…..of course, the cookies were tiny.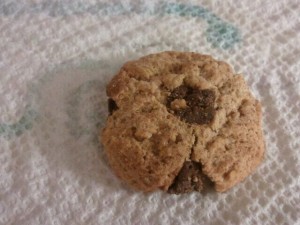 However, even though the size lacked, the flavor was delicious. It was a crunchy/crumbly cookie with rather large chocolate chips that literally melted in my mouth. The cookies were sweet and had that crunchy-yet-soft texture thing going on, especially when you bit into a chocolate chip.
You could taste just a bit of a salty aftertaste, as well as a hint of vanilla.
In fact, these cookies reminded me of Chips Ahoy!, but thicker, and well…better. They had a bit more of a homemade flavor than a Chips Ahoy! cookie would, which is why I liked them better.
These cookies are dangerous. So tiny as in, oh I can soooooo have another one, and it's literally impossible to eat only one. But a good dangerous. In the sense that, yea I would buy these in the future if given the opportunity. 4 stars
And…..nutrition facts