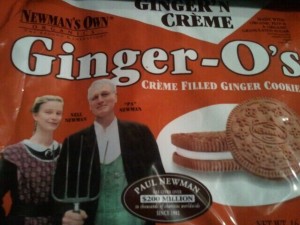 Rewind.
Go back a few years (ok…more than a few) to my childhood. A snack before bed would be a few Oreo's with an ice cold glass of milk or smear of peanut butter depending on the mood. Nothing like twisting off the tops, licking the creamy middle, and then the crunchy cookie. Perfection.
Fast forward.
A new (well new cookie to me…I've seen them around for a while) side of a cookie, a Ginger-O from Newman's Own Organics. Kind of like an Oreo, but also very different. According to the package, they are "creme filled ginger cookies".  They also feature good ol' Nell and Pa Newman on the front of the package, as well as letting us know that "Paul Newman Foundation has given over $200 million to thousands of charities worldwide since 1982". That's one of my favorite parts about this company, and if that's not enough to make you go out and pick up a tasty Newman's Own Organic product, I don't know what will.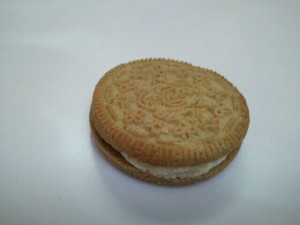 I got this package for free, but I can't say I won't buy them in the future. These Ginger-O's are good. Don't bite into one expecting the following:
1. A chocolate cookie with vanilla cream filling
or
2. A spicy cookie you can't handle and won't enjoy (I suspected this at first. GUILTY)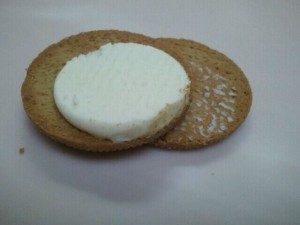 These cookies are GOOD! I honestly thought they would be like eating ginger candies where my mouth is on fire. Don't get me wrong, I like that (figuratively speaking of course) but not when it comes to cookies. It was a crunchy cookie that tasted very similar to a gingerbread man cookie. A bit of spice, but not too much. By itself, the cookie was mild and not sweet, but with the creme inside it was yummy!
The creme by itself was sweet and had a vanilla flavor, but just a wee bit of ginger spice flavor to it. It was smooth and creamy, and there was a good amount of the creme on each cookie. No scrimping here!
I really enjoyed these. So did my pup, Casper. I licked the filling and she got a few of the the cookie parts. What can I say? I'm a good sharer, and her puppy-dog eyes won me over. (;
Overall, 4 stars. A good, unique, and tasty cookie! Especially if you like ginger! I wonder if the rule applies that "ginger is good for you when you have a stomachache" here. So if my stomach hurts…can I have some of these cookies?? (;
Ever had a Ginger-O? Do you like them/how do you eat them? If not, would you try them?