Who doesn't love cookies?!?!
EnjoyLife sent me a huge box of goodies for free, and let me tell you how pleasant of a surprise it was seeing that on my doorstep!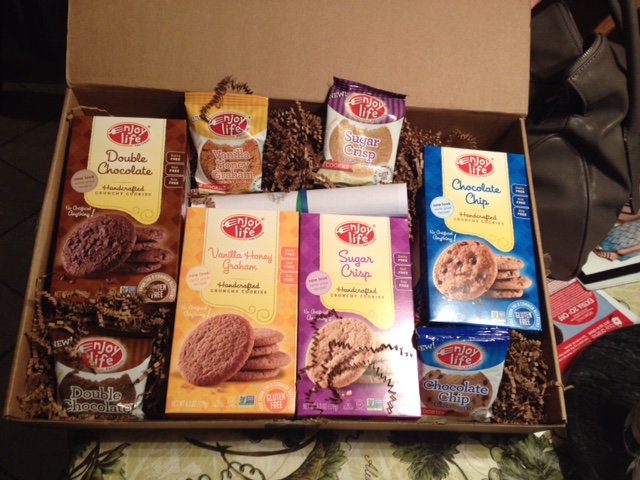 These crunchy cookies are gluten free, dairy free, nut free, and soy free according to the box. The box also states that they are "free from the 8 common allergies", so one could definitely assume they are allergen friendly :]
They come in 4 different flavors, Vanilla Honey Graham, Double Chocolate, Chocolate Chip, and Sugar Crisp. I was so excited! I generally prefer soft cookies over crunchy or crisp ones, but I am also never one to turn down a good cookie :]
I tried the double chocolate first. Here is what they looked like up close!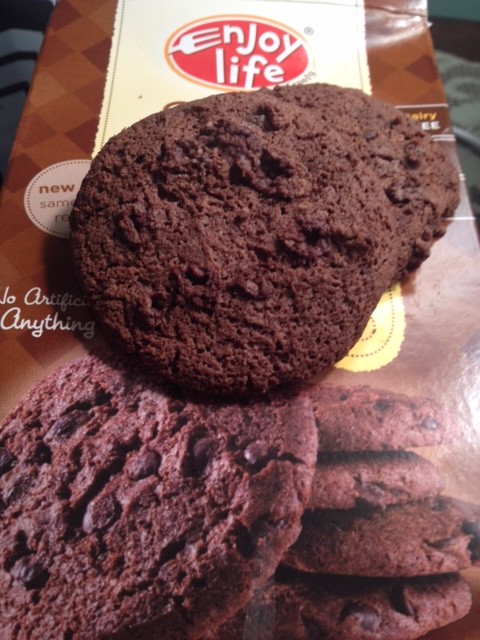 Mmmmm. These cookies were nice and crunchy, but not flaky, they had a good body to them. There was clearly a good amount of chocolate chips, but I think it had more of a dark chocolate than a milk chocolate flavor to them. These actually reminded me of a brownie-cookie. They were very sweet and a tad salty, so in other words, a great combination! The consistency was great. Couldn't tell it was gluten free or anything aside from a regular ol' gluten-y cookie. Haha. Very good! 4.5 stars
Next up, the chocolate chip. These were yummmay!!! Crunchy and crispy, but had body like the other ones. The chocolate chips melted easily which was a good thing, and they were plentiful without the cookie. There was a slight vanilla flavor as well. They were sweet with a slight punch of saltiness, so again, delicious combo. You really can't tell it was gluten free! Often I tried GF cookies where you can taste the potato flour or there is a piecy consistency, but not the case with these. They held together well, and I ate, well, ALL of them 🙂 (oops) 4.5 stars
Next up, the Sugar Crisp. Again…yum! Crispy, but not airy, with a prominent vanilla flavor. In fact, these were full of flavor. These had a slight break down after you chew it where you can tell it was made of rice flour, unlike the other two, but they were still quite good. If you like a sweet cookie with a strong vanilla flavor, these are for you. 4 stars
Lastly, Vanilla Honey Graham!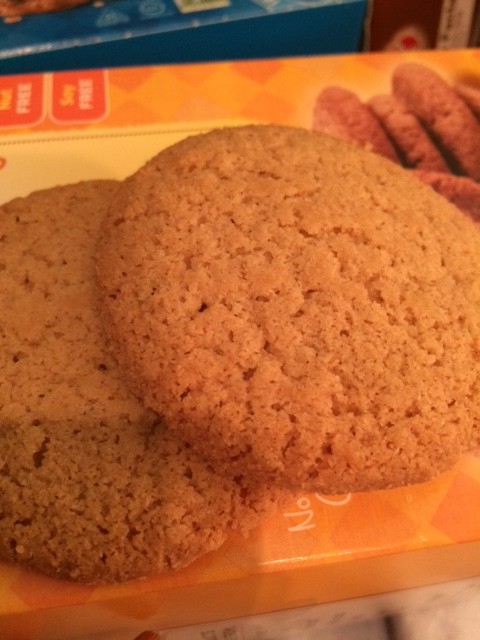 Look how perfect these little guys look! These cookies almost tasted like toast with honey spread on it. They had a rather strong honey flavor, and a very slight undertone of vanilla flavor. The toasted flavor however, was quite predominant, and the cookie has strong flavors. I think the toasted flavor was supposed to be the graham flavor, but not too sure. If you like honey, I would say this a good choice. I enjoyed it, but not my favorite of the 4. 3 1/2 stars
Overall, I approve! I would definitely buy some of these if I saw them on my next trip to the supermarket 🙂