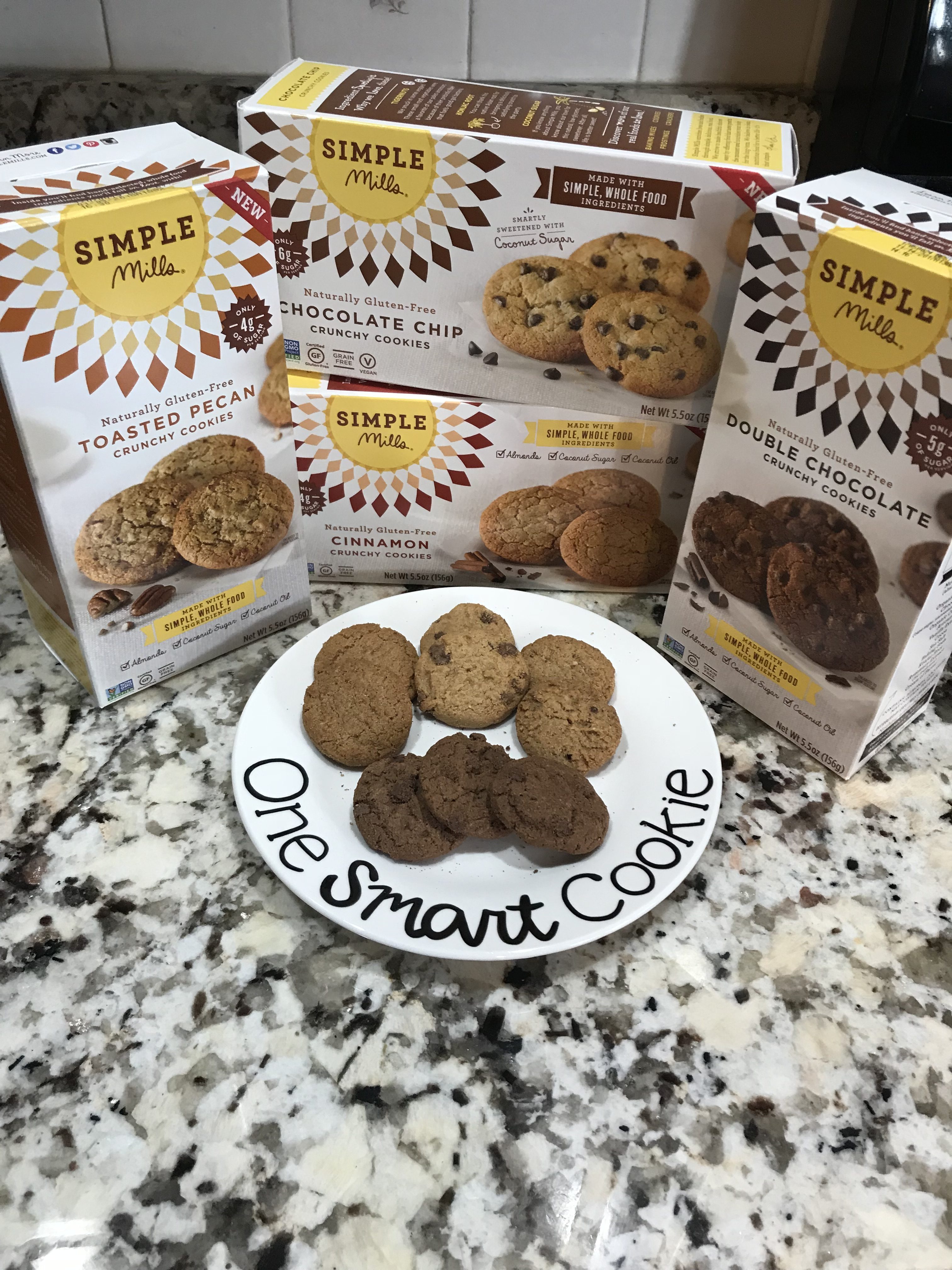 Who doesn't like COOKIES!!! Well…. to be honest I don't know anyone who doesn't like at least some form of a cookie. But what about those who cannot enjoy your every day cookie from the bakery, due to gluten intolerance, vegan lifestyle, soy allergies, dairy allergies?
Simple Mills has a cookie for ya! They have a line of products for those who are gluten intolerant, as well as those with other special dietary needs. The cookies they sent me come in 4 varieties, Toasted pecan, Cinnamon, Chocolate Chip, and Double Chocolate. All of them are gluten free, paleo friendly, dairy free, vegan and soy free. They are all relatively low in sugar as well (see ingredients and nutritional information below for the double chocolate variety), and made with non-GMO ingredients.
But how do they taste?
Toasted Pecan– I was super pumped for this one. Pecans are my favorite nut, and usually one of my favorite flavored things. But these cookies fell….flat. They were relatively bland, not sweet, and just had a weird taste to them. The pecan flavor was lacking. On the bright side, the texture was pretty good– crumbly and crunchy. These would be good perhaps with a cup of coffee or tea, but not by itself. 2 stars.
Cinnamon- these were okay. The cinnamon flavor was mild, and really needed more of a punch. Mildly sweet again, but crunchy and the texture was good (this is important, especially in gluten free products which I have seen time and time again fall apart). While the flavor was good, it was just weak and really needed something to amp it up. 3 stars
Chocolate Chip– oooh. now we are talking! These were yummy. I know they were yummy because once I opened them, the box was nearly gone (thanks to my cookie monster brother). We both agreed they tasted very similar to "Famous Amos" cookies. Sweeter than the other varieties, mild vanilla flavor, crunchy, and the milk chocolate flavored chips were sweet and added a nice touch. Definitely my favorite of the 4 —  4 stars
Double Chocolate- these were also very good. Crunchy and sweeter, a nice chocolate flavor throughout, and the mini chocolate chips were sweet and melted in your mouth. There was a mild vanilla flavor as well. Really wanted to smear some peanut butter on these and inhale but…self restraint! 3.5 stars
Overall, not too bad. I think that they are relatively NOT sweet cookies- so you might be shocked if you are used to sweeter conventional varieties of cookies. However, I think they are a good alternative, especially if you like cookies that aren't packed with sugar. The double chocolate variety for example, has only 4 grams of sugar for 3 cookies, which is almost unheard of for cookies. The BAD is that they are a little on the bland side, and saturated fat will run you almost 4 grams for 3 cookies, which I feel like is a lot, but guessing it's from the coconut oil.
The One Smart Cookie plate was also a super cute touch.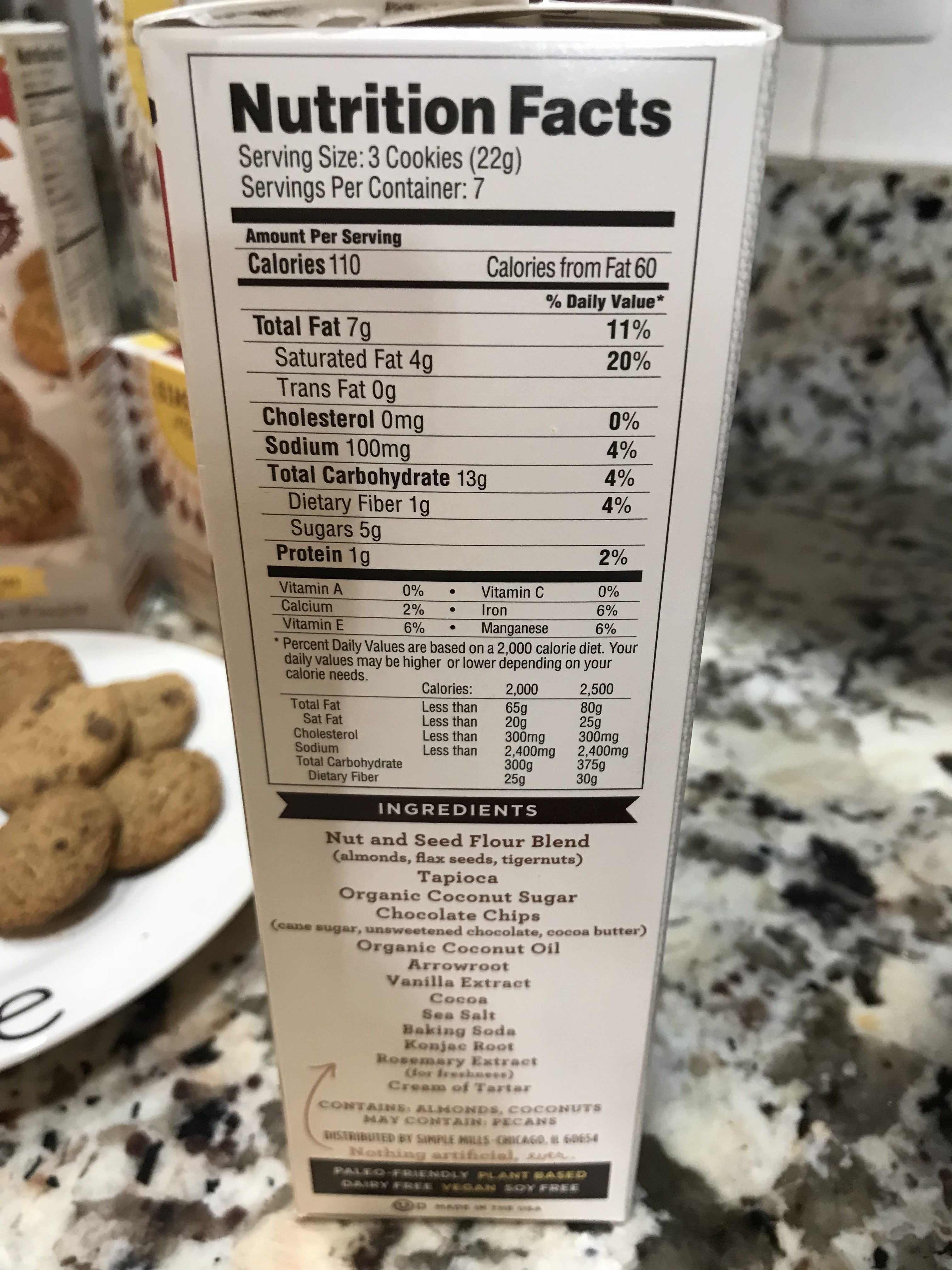 DISCLAIMER: I received these cookies for free. This is an unbiased review.