Looking for a mid-afternoon pick me up? While coffee usually does it for me, sometimes I am In a rush and don't want to guzzle an entire cup of coffee before a lift. (Squats + coffee? Not a great combination…).
Consider Voke Super-Food tablets. Each packet provides 2 tablets at 77 mg of caffeine each (roughly a small cup of coffee), and you are instructed to eat 1 in the morning and 1 in the mid-afternoon (1/2 a tablet for those who are sensitive!) The caffeine is extracted from Green Tea Leaves.
Voke promotes mental focus, upbeat mood and clear thinking with their Superfood blend of Organic Raw Guarana Seed (often seen in energy drinks for focus), Natural Red Beetroot, Organic Acerola Cherry, and Natural Green Tea Leaf Caffeine. Each tablet also provides 60 mg of Vitamin C (100% of Recommended daily value) and only 2 calories each with 0g of sugar. They are sweetened with Organic Erythritol, Xylitol, Monk Fruit Extract and Rebiana from Stevia Leaves.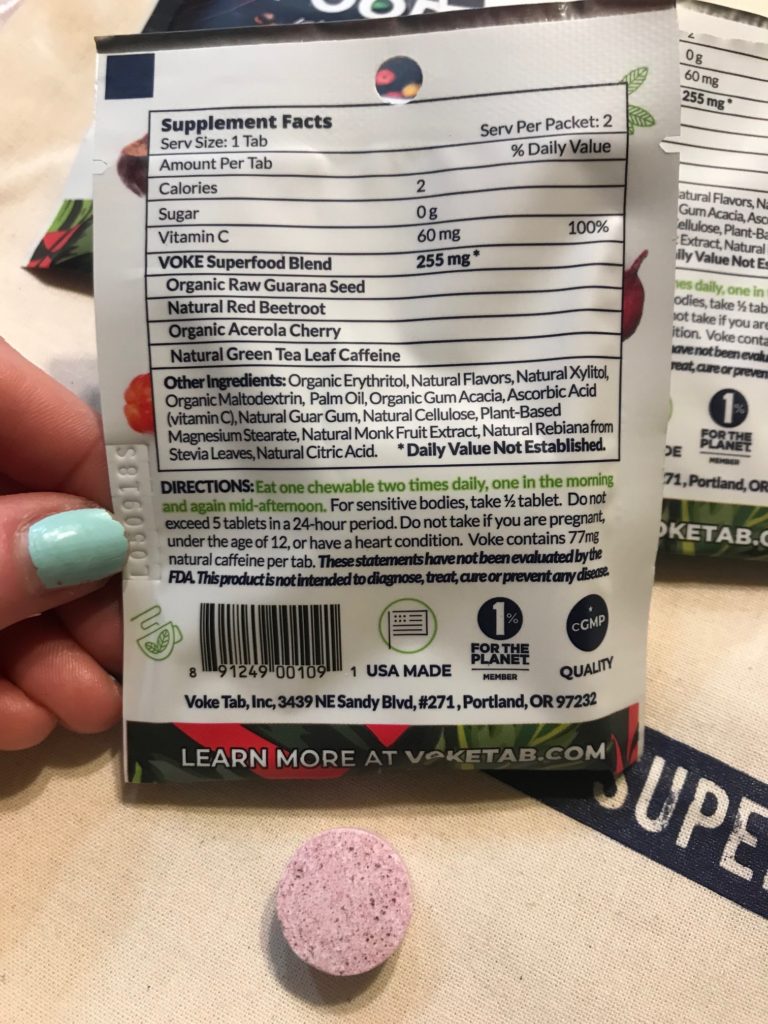 Each tab is roughly the size of a nickel, with the diameter of 3 coins. They are easy to chew. The taste is…okay. When you first bite into it, it tastes pretty good with a slight medicinal taste, reminiscent of children's chewable vitamins I used to take (maybe I still use them…who knows!). But then you are somewhat overwhelmed with this tart and bitter flavor. I think it's good on one hand to not taste *amazing*, as people may be inclined to take more than recommended (or if kids get their hands on them, may eat them which is not okay under the age of 12 (as per Voke). On the other hand, they are super tart, and I just wish they would be slightly more palatable. I only ate half the first time I tried it, and I wasn't thrilled about trying them again.
That being said, taste aside, I did have a pretty good workout. I ate the tablet 30-45 minutes prior to a lift after a long day at work when I was feeling like I was dragging. I felt like I had an extra boost and pep during my workout, and I liked that I didn't have to get another cup of coffee. I did have a slight bit of anxiety, but this is rather common for me when I use supplements with caffeine in them (or even when I drink too much coffee).
Overall, these are OK. If you can handle the tartness, they are a good option, especially for those who workout early on an empty stomach or cannot drink coffee and looking for another option besides the 4$ overly caffeinated energy drinks. I like that the ingredient list is relatively pure and the supplement is low in sugar.
As per Voke, do not use the tablets if you are pregnant, under the age of 12, or have a heart condition. You are also instructed to NOT exceed 5 tablets it 24 hours.
3.5 stars
DISCLAIMER: This is an unbiased review. I received this product to try for free from the company.