Before I start, I have never heard of banana flour. I didn't even know you could get a powdered consistency out of a banana. I mean what banana have you eaten that is…dry?! But… on that note, let's begin!
Pereg contacted me and asked if I wanted to try their alternative flours – and I happily obliged. The thought of banana flour seemed cool — does this mean I get to count it as extra serving of fruit? 😉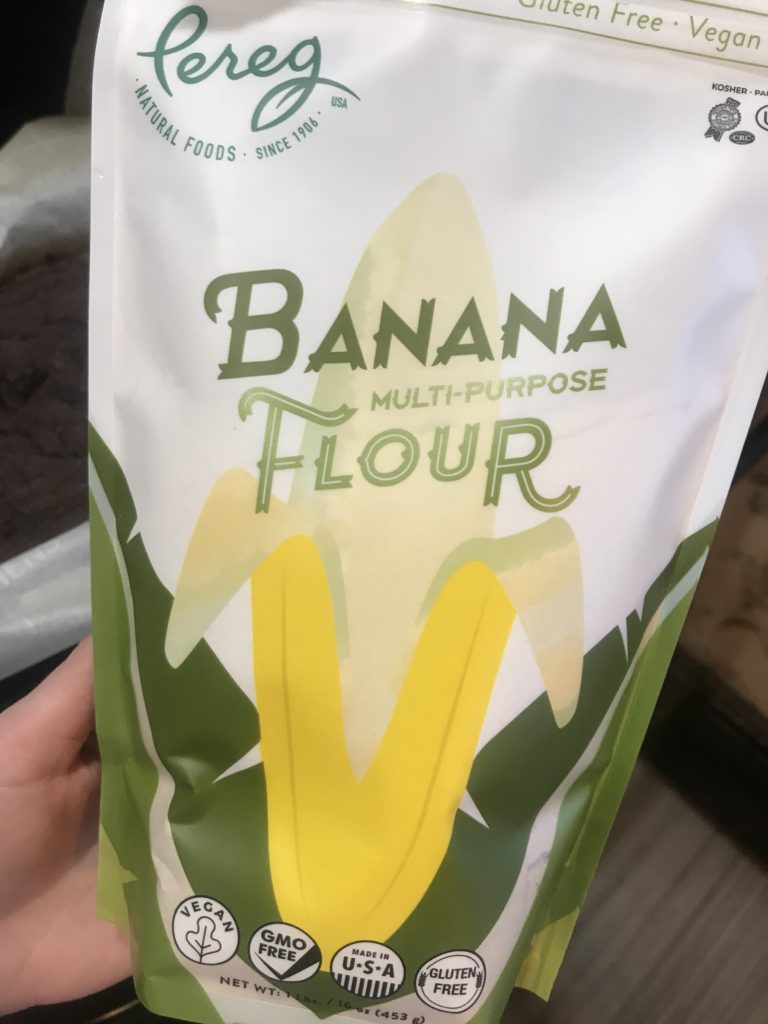 This flour is vegan, GMO free, Gluten Free, made in the USA, & Kosher. According to the bag, it is a gluten-free alternative to wheat flour. The ingredients? 100% banana flour. Don't ask me how- I'm still not sure how they made flour out of bananas, but if they can make milk out of almonds, I feel like almost anything can be done!
1/4 cup of a serving is 97 calories, 0.5 grams of fat, 24 grams of carbohydrates, 3 grams of fiber, 13 gams of sugar and 1 gram of protein. So pretty standard — the macros of a banana.
Okay problem, what on earth do I make with banana flour…. the bag comes with a recipe on the back for chocolate flour cake. I decided to google some popular recipes and found 2 of them for banana-chocolate brownies.
The first recipe…was a DUD. I should have realized that, including the majority of the recipe called for applesauce and only 1/4 cup of the banana flour. I won't even go into it, because I threw it right in the trash.
I looked for a more reputable recipe, off a rather famous looking blog and decided to use that recipe. It had good reviews, and I followed the recipe posted verbatim. Here was the result: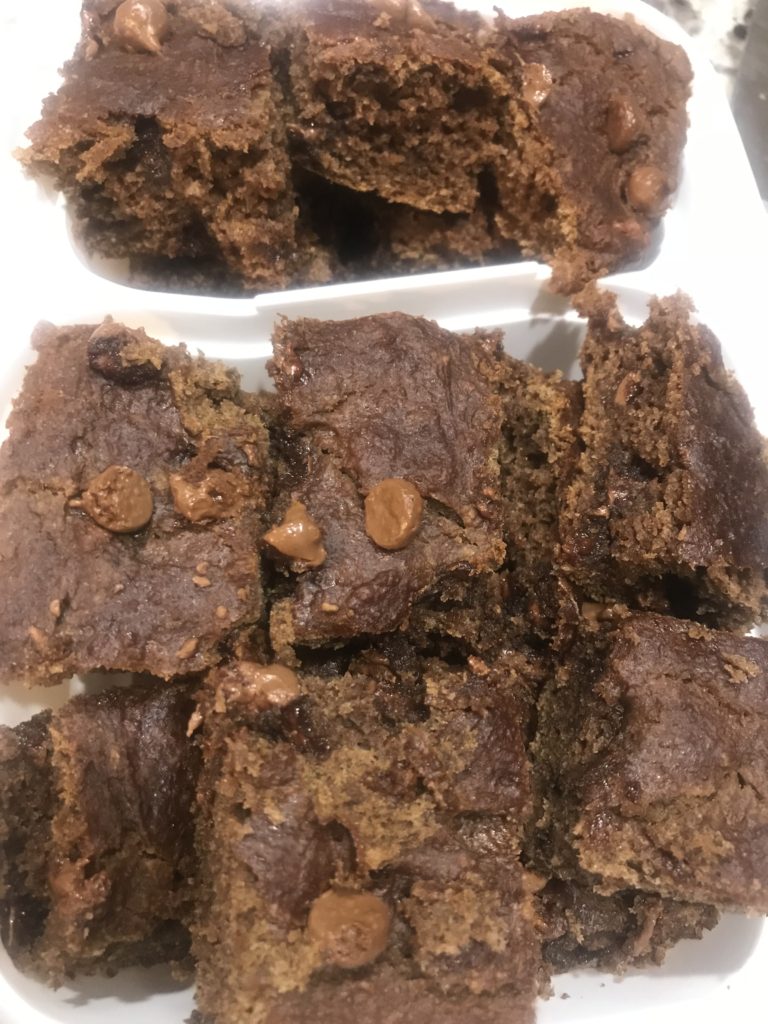 The result?
I didn't hate it, but I didn't really like it enough to make it again. If I didn't add the generous handful of chocolate chips, I'm not sure if I would like this at all. I know it's difficult to judge a flour based on an entire recipe, but both recipes I made had this predominant weird flavor to it– alas, the banana flour. The thing is, it wasn't a sweet banana flavor, but moreso the starchy, GREEN banana flavor. Have you ever tried to eat a banana that was green? Because thats the flavor that the banana flour gave to the recipes.
I'm sure if you mask the flavor well enough — say with chocolate — it's a good alternative. For now, the banana flour may be chilling in the back of my closet until I get the urge to try another recipe. To be fair, I did eat all of the "brownies" I made, but like I said, they were just ok.
The consistency however, was pretty good for the brownie. Fluffy, more-so on the bread like side, and a little dense. I think this flour is good for cake like brownie or dessert cake recipes.
3 stars for the banana flour.
Would I buy it? Debatable. I am honestly finding it hard to make something else out of the banana flour, but I think I might make banana bread again but with the flour AND ripe bananas, see how it goes.
On another note, I was also given Teff flour. However, that review is…coming. I honestly didn't know what Teff was (apparently it's a grain!) but I have yet to find time in my 6 day a week work schedule to make something out of Teff, but when I do, I will post here.
DICLAIMER: I was given this flour to try for free. This is an unbiased review.