Earthbaby is a company that makes products that are gentle, non toxic and effective for cleansing your baby's soft and delicate skin and hair. The company was founded by Florence Nacino, a health and beauty formulation researcher. While I do not have a baby of my own, the company sent me some products to try. I have VERY sensitive skin, so I happily obliged.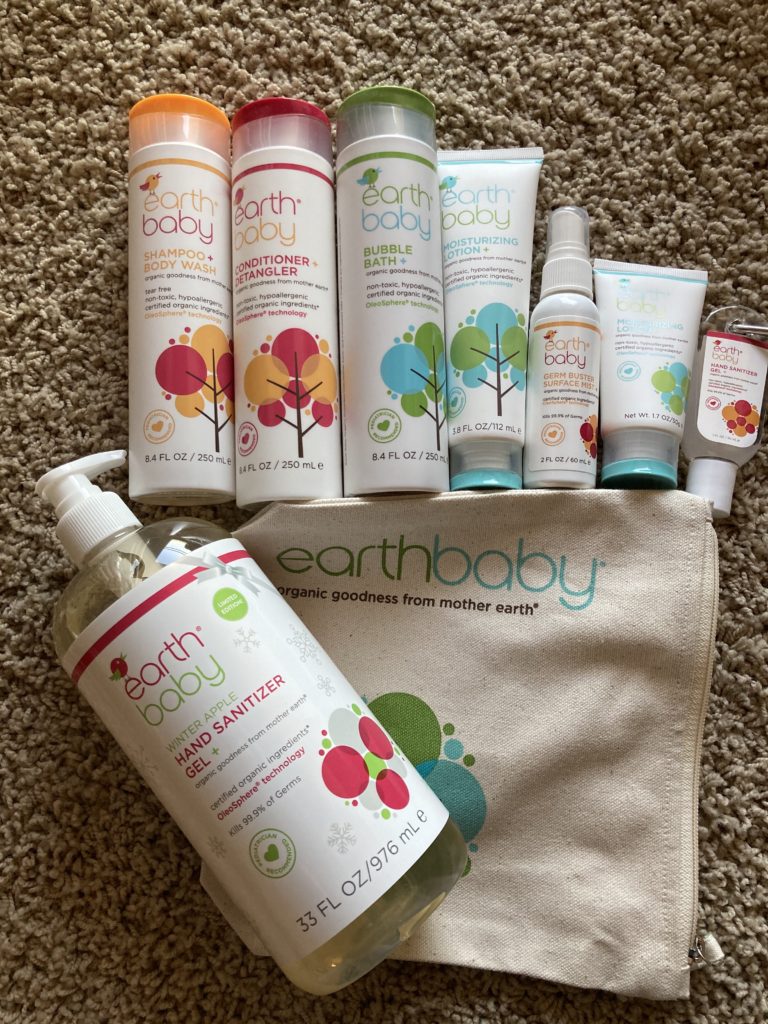 The products are relatively affordable, average 5-15$ each (with the exception of the hand sanitizer).
The products are held to certain standards. They are FREE of artificial dyes, phthalates, mineral oil, DEA, CHT, BSE, formaldehyde, sulfates and paragons. They are hypoallergenic and nonirritating, with no animal byproducts. Certain products in the lines are made with 90% natural derived ingredients and 70% certified organic ingredients.
The have Oleosphere Technology, which according to the pamphlet they provided me, has a delayed release and immediate release for hydration. There is Hyaluronic Acid, natural fragrance , vitamin E and fresh cells.
So lets delve into It!
Shampoo & Body Wash – infused with chamomile, honey and apple. I found It gently cleansed my hair and I really loved the apple scent.
Conditioner + Detangler- enriched with mango, murumuru butter and lemon verbena. This I think is great for baby's hair, as It is very light weight, not like a conditioner where It weighs down the hair. The scent is very mild. It did do a good job of preventing nasty knots when brushing my hair
Bubble Bath- while I haven't used this one yet as a bubble bath, I did use It as a mild body wash. I like that It has chamomile, oat and Dead Sea salt to help gently exfoliate.
Moisturizing Lotion – I am honestly not crazy about the scent for this one. It is enriched with cocoa butter, lavender and carrot, but the carrot scent seems to be overwhelming. However…It hydrated my dry skin (I live in the desert!) and I work in health care so I do a LOT of hand washing, and It hydrated my hands without leaving them feeling greasy!
Germ Buster Mist– I love the idea of this! Especially in these trying times, great to apply to surfaces before changing your baby on changing tables or even commonly touched objects such as doorknobs and high chairs.
Hand Sanitizer – Winter Apple – love the scent in this one! I find scented hand sanitizers to often be overwhelming but this has a fresh apple scent that is light and fresh. I feel It doesn't leave my hands quite as dry as other hand sanitizers can.
Overall, I really like this brand! Affordable products, and non-irritating. I often have skin reactions to anything with fragrances but I did not have a problem with these products. Although I used these on my own skin, if I had a baby I would definitely use this brand as well, especially given the fact that I have SUPER sensitive skin.
4 1/2 stars
DISCLAIMER: I RECEIVED THESE PRODUCTS TO TRY FOR FREE FROM THE COMPANY. THIS IS AN UNBIASED REVIEW.