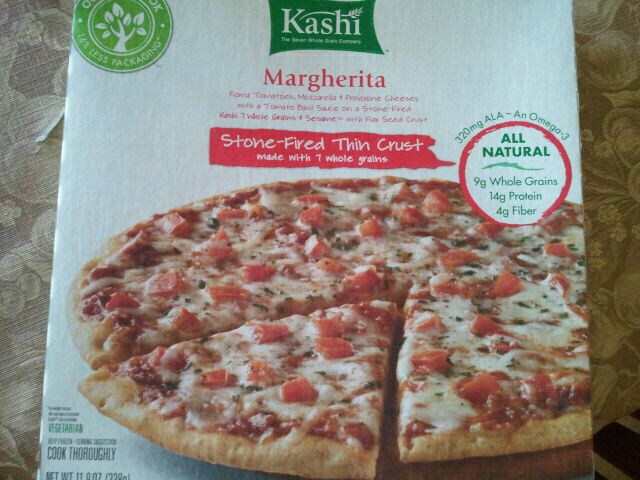 Ever go grocery shopping, with the intent of buying one thing, and then letting your stomach decide what you actually buy?
Yea. That's what happened here. That's how this Kashi Margherita Stone-Fired Thin Crust Pizza ended up in my cart, then in the stove, and then eaten by yours truly. It sort of happened like this…
I figured I would walk by the natural food section of my grocery store, just to browse( for the record, browsing in that section is NOT wallet friendly for me. I spend a LOT of money on food!!) and then  I passed by this pizza.  I've seen this pizza over and over at the store, and just never bought it. And after eating it, I'm really mad at myself for not buying it sooner.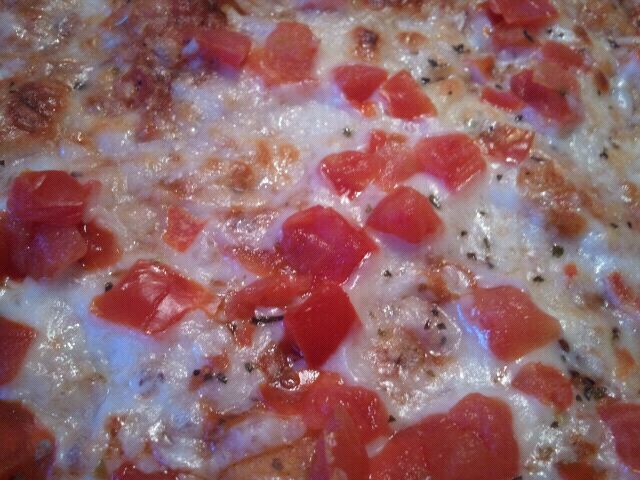 Doesn't this look delicious? Because it was delicious x 10
While it was cooking, my kitchen transformed to normal kitchen to a pizzeria. Seriously. It smelled so good! After it came out, I thought I would be disappointed because it was a VERY thin crust, but rest assured, it was delicious. I cooked mine on a pan, so the edges were a bit crunchy, but the middle part of the crust was nice and soft.
The pizza as a whole wasn't super greasy, so that made me happy. The crust was even pretty flavorful, with a bit of garlic and a bit of spice weaved in.  It even tasted "doughy" despite the fact that it was a thin crust. The tomatoes tasted unbelievably fresh, and were juicy, as if they were cut straight from the garden. There were garlic and onion flavors mixed in with the cheese, of which there was just the right amount of. Not drowning in cheese, and not so little that I had to wonder if the company remembered to put any cheese on at all, but just right.
Overall? This pizza rocked. It also has whole grains and omega-3's according to the box. I had half of the pizza left over that I left on the pan, which was devoured by another person as soon as they came home. So much for leftovers… ; )   5 stars