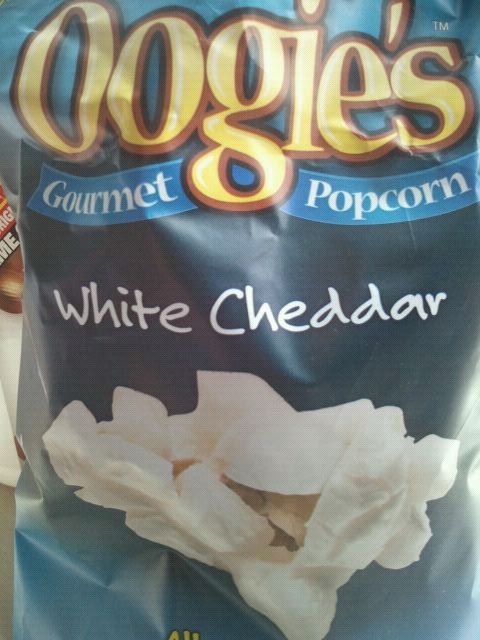 So far, I'm a fan of Oogie's Gourmet Popcorn. The ever-so delicious Smoked Gouda **highly reccommended**, pretty yummy Movie Lover's Buttered Popcorn, and also pretty good Hatch Chili Con Queso flavors. I was excited to try the White Cheddar.
You see… I sort of had an obsession with White Cheddar popcorn when I was younger. There would always be a bag of it in the house, and I was known to demolish the whole bag (yes….the WHOLE thing) in a sitting. Who counts serving sizes or calories when they are little? I sure didn't!  ; )
Then I just grew out of the bag a week White Cheddar popcorn phase. And then when I received Oogie's Gourmet Popcorn White Cheddar for free to try in the mail, my love was rekindled. YES. White Cheddar Popcorn we meet again!!
So I opened the bag, and here's how it looked.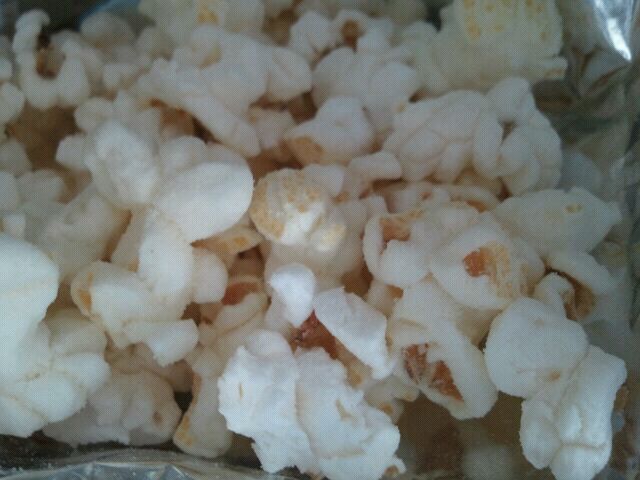 The popcorn itself was light and fluffy, with a great crunch. Just as popcorn should be. It left a slight residue on my hands, but not so much where I had to wipe my hands all over the couch cushions (KIDDING!). I wouldn't say the flavor screamed White Cheddar , and in fact some pieces I questioned to myself what flavor was it exactly?
It wasn't really salty, and had a mild cheese flavor. It also had a bit of a buttermilk flavor that reminded me of Ranch dressing. It was certainly a unique flavor, where some pieces were very flavorful, and others left rather bland.
So does Oogie's Gourmet Popcorn White Cheddar live up to my past of White Cheddar popcorn love affair?
Not exactly, but it was still good. I would eat it again, and would buy it if I saw it in stores. 4 stars
How do you like yo eat YOUR popcorn? sweet? salty? Let me know!!! 🙂