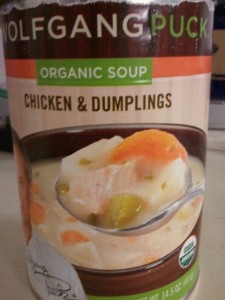 Another soup review! NOT to be confused with my last review of this delicious soup, but I decided to buy this Wolfgang Puck Chicken and Dumplings soup in hopes it would be similar to this one!
So, the other day I came home from the gym and was HUNGRY. You know- when your hungry and pretty much you'd eat anything, and what you do eat, usually tastes so good. Even spinach would taste good. OK…that may be exaggerating, given the fact I hate spinach (I know….shame on health nut!), but you know what I'm talking about  ; )
SO ANYWAY, I decided to try out this new soup as part of my lunch. Here's what it looked like transferred to a bowl…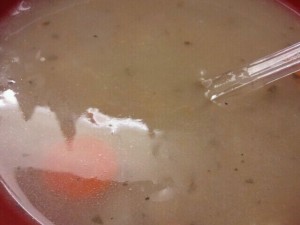 Here's the soup, I tried to find some of the actual
contents of the soup (there was not a lot..it was mostly broth)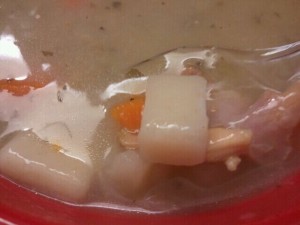 The "square" could have been a dumpling or a potato piece. They both looked the same.
So, as you can see…mostly broth, a few carrots, a few potato pieces, a few square dumplings(weird) and a few pieces of chicken. This was not a filling soup. You can guarantee it I had something else to eat after this soup. I considered it my appetizer.
Starting with the broth, it was sort of thin but also had a bit of an oily consistency I didn't like.  The chicken was horrible. It was soooooo chewy, like the bottom stalk of an asparagus. Chew. Chew. Chew. The carrots and the potatoes were mushy. Like the second I put it in my mouth it turned to mush. Not my kinda vegetable consistency. And, the dumplings were basically bland noodles. I thought they were potatoes at first. Then I realized they were dumplings. ???
Overall, waste of money. I also felt like it was underseasoned and needed some salt. I was really disappointed with this soup. 1 1/2 stars   *SIGH* : (