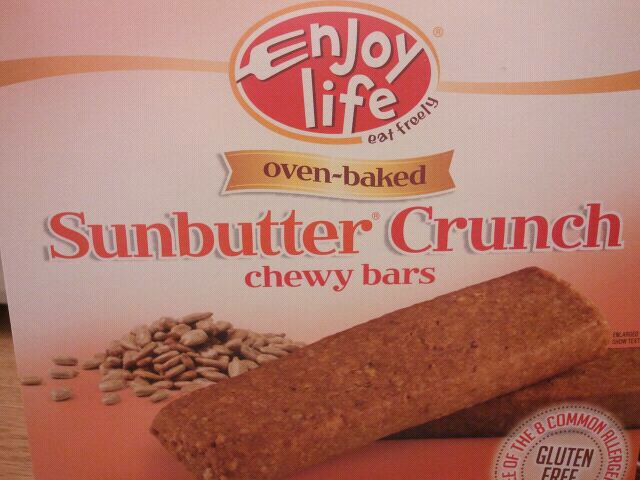 Yay for new products to try! I was sent a few boxes of EnjoyLife Chewy Bars to try to review for free. Of course I agreed, as I am always up to try new things. Plus….I eat granola bars like crazy! Even more…these bars are dairy free, wheat free, gluten free, fish free, egg free, soy free, and nut free!
I decided to try the Sunbutter Crunch bars first. Why? I don't know. They called to me. They reminded me of baseball games when I was little where I was given sunflower seeds to munch on. At the time I didn't know you supposed to take the shell off. I was literally chew-chew-chewing the seeds with the shell on. HA!
But anyway, I opened one up and took a look. The texture is quite weird. They feel almost rough to the touch and dry, and don't bend well. If you bend the bar, it breaks off into pieces automatically.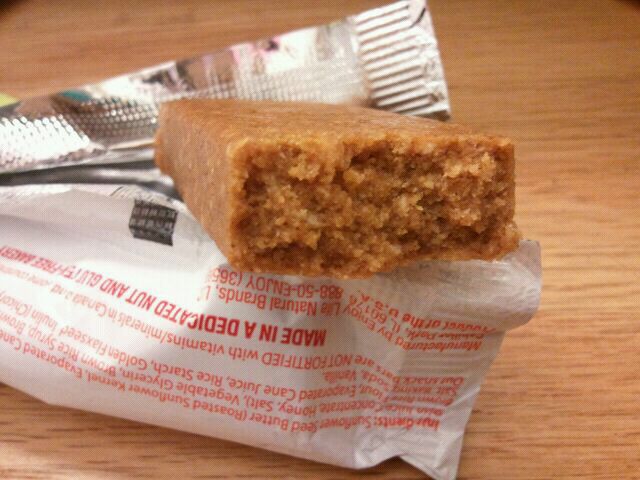 These smell EXACTLY like sunflower seeds. Which I suppose they should…they are made from sunflower seed butter! I broke off a piece, and it seemed like a very dense and kind of dry bar. The only way to know for sure was to take a bite. I went for it, and…I can't say I was a HUGE fan, but I can't say I hated it either.
At first, it was kind of bland, and it was chewy and dense, with a puffed rice krispie texture thing going on as well. As I chewed, the bar became sweeter and sweeter. As expected, the bar was kind of dry, but not so bad where my mouth was calling water uncontrollably. These were actually kind of good! They had a mild sunflower seed taste, but tasted like peanut butter at times too (no worries- these are NUT free!!).
As I continued to eat the bar, I liked it more and more. A rather unique flavor, but really quite good! I liked it more than I thought I would, as I thought there would be an overpowering sunflower seed taste, but there wasn't! My only complaint is these are TINY!. Here's a pic of it in comparison with a pen. Blue ink only, guys. I'm biased and will only write in blue. ; )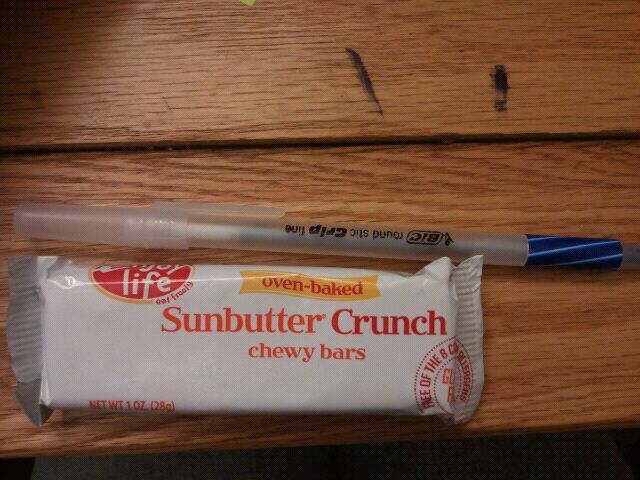 See…tiny! But they are only 120 calories each, so I could eat one (or 1.5 of them!) before a workout as a snack and I feel like it would fuel me up just fine. Or pair one with a glass of milk! (unless you have milk allergies of course!) Overall, 3  stars. Recommended to try, especially if you like sunflower seeds!
Do you like sunflower seeds? flavored sunflower seeds? sunflower butter? Tell me! : )