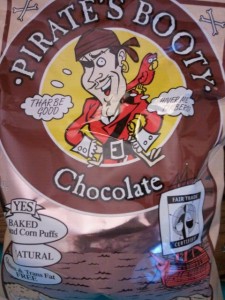 I LOVE PIRATE'S BOOTY! Cheesy, puffy, salty delicious-ness. So I was in Whole Foods browsing the snack aisles, and saw Chocolate Pirate's Booty. At first I was a bit taken aback/weirded out. Wait….cheesy and chocolatey? I was almost going to buy pita chips instead, but then I decided to give it a try. Why not? Maybe it would be delicious!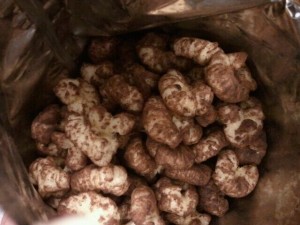 I picked up a piece- probably one of the more chocolatey ones. It had almost a chocolate dusted film on it. I ate the piece, and could say it certainly had more of a cocoa flavor than chocolate. And to calm my cheesy-chocolate fears, there was no cheese flavor, but there was the flavor of the corn puff. (PHEW- imagine how gross it would have tasted if it was cheesy AND chocolatey? EW!)
I tried a few more. Crunchy, light and typical texture of Pirate's Booty. It was mildly sweet, some had a bit of a vanilla flavor. They overall to me tasted like less sweet, bigger and more puffier pieces of Cocoa Puffs cereal. They weren't bad, and the more I ate them, the more I think I liked them.
I look forward to trying them with peanut butter (oh c'mon, you saw that one coming!) and I also think they would be really good in a "trail mix" type, or paired up with a peanut butter cereal, like PB Cap'n Crunch! So overall, 3 stars. Not bad, but not ahhhhhmazing.
WHAT'S your favorite chocolate snack? (other than chocolate!!) Mine?? Chocolate Chocolate Chip Muffins =)
Oh. And I fail miserably at taking photos of the nutrition facts, I KNOW. Sorry =P