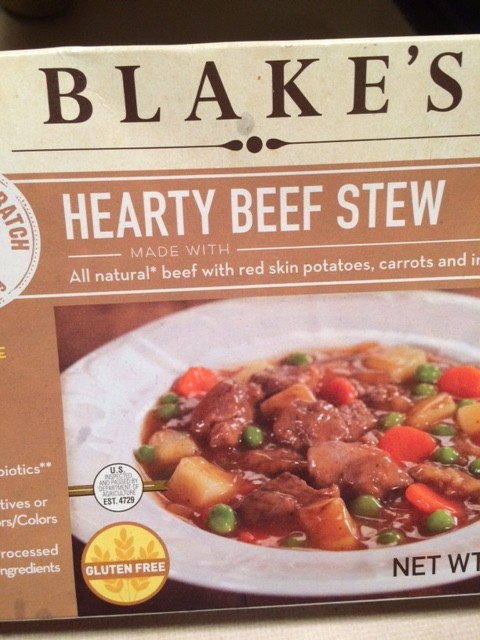 Saw this at Target today (the best store in the world, duh) and decided to give it a whirl. I often stay away from frozen dinners for a few reasons…
1. Full of sodium (hellooooo bloating)
2. Full of preservatives (how about some BHT with your carrots?)
3. Teeny portions for a lot of money
And while this one looked small, the sodium levels were low, and it was a natural dish so no preservatives or colors added. I've also had Blake's chicken pot pie before and it was scrumptious. So I decided to give it a whirl.
Suggested cooking method is the oven. Did I use the oven? Of course I did….the microwave oven (see what I did there?) 😉
Smaller than I thought. Frozen dinner? How about a frozen snack….
There was literally 3 pieces of beef in here. THREE. TEENY. PIECES. I am a big girl (okay, I'm not a big girl, but my stomach likes big portions), and I can easily down a plate of meatballs, steak, hamburger, etc. And still be hungry. So I knew this wasn't promising.
The first piece of beef was scrumptious. Soft, tender, flavorful. Bits of garlic and pepper, perfectly complimented with the gravy. Reminded me of the stew my mom used to make…mmm.
The other two pieces of beef were fatty. Half fat I should say. White, visible fat. Chewy and bleh. Some people like fatty meat. I am not one of them. Moving on…
The carrots and peas were on point. Carrots were perfect consistency, and peas were nice and crisp. It reminded me of the inside of a pot pie. Both flavorful and fresh. Very good.
The square potatoes were an epic fail. These were supposed to be red skin potatoes? They tasted like the super starchy brown ones you can make french fries with. They were essentially a block of mush. Starchy mush. Awful.
The gravy was thick, but gelatinous, which probably meant it had a high fat content. And seeing as my mere 3 pieces of beef could not possibly contribute all 12 grams of fat, I assume the rest of the fat was in the gravy. Which I will admit, was delicious and flavorful. It held the dish together nicely and went well with everything. Even those awful potatoes.
Overall? Meh. Hearty? Hardly. I wasn't even hungry when I ate this and I think I am hungrier post meal. Would not buy again, but if bought for me I would eat it. 2 1/2 stars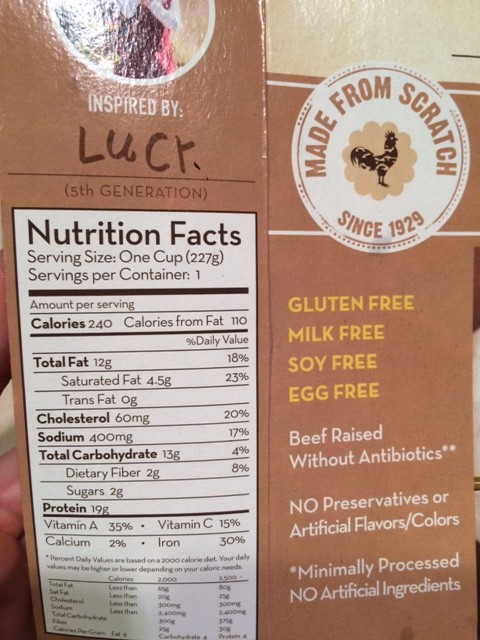 Follow me on INSTAGRAM for short snippet reviews! Lisa_liftsx