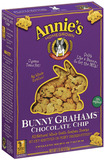 So we all love Teddy Grahams-no? But do we also love the hydrogenated oils and high fructose corn syrup? Eh, I think not. Just looking at the ingredients for Teddy Grahams makes me sick. So, imagine my excitement when I came across Annie's Bunny Grahams. These cute little guys come in 4 flavors, Chocolate Chip, Cinnamon, Honey and Chocolate. They also have cheesy flavors, but I'll talk about that at a later date.
So I opened up my pouch of bunny grahams and popped a couple in. Sweet, but not too sweet, and you can DEFINITELY munch on them all afternoon-no problem! In fact, I ate practically half the box in one sitting. Whoops 🙂
Good thing is, no trans fats, all natural, and they provide 20% daily calicum need (more like 60% for me including i had more than one serving!).
28 grams, about 30 bunnies or so, is 140 calories, 4.5 grams of fat, 22 carbs, >1 gram of fiber and 2 grams of protein.
Organic Wheat Flour, Organic Evaporated Cane Juice, Expeller-pressed Vegetable Oil, Organic Corn Flour, Organic Graham Flour, Cookie Bits (wheat flour, organic evaporated cane juice, sunflower oil, alkalized cocoa, salt, baking soda), Calcium Carbonate, Chocolate Chips (sugar, unsweetened chocolate, cocoa butter, soy lecithin, vanilla extract), Natural Flavor, Baking Soda, Salt, Organic Chocolate Flavor.