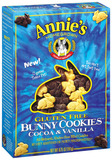 Hop to it!
With Easter approaching, I thought it would be a good idea to do a review of the  new Gluten Free Cocoa & Vanilla Bunny Cookies that Annie's Homegrown sent me to try. What better way to celebrate the holiday than with some of my favorite bunnies? (And Bernie, of course!) Even better- EVERYONE can have these this Easter– they are Gluten Free, all natural, and have 0 grams of trans fats!
First off, I LOVE Annie's Bunny Grahams- honey, cinnamon and chocolate chip are all so delicious, and are my favorites. Annie's Bunny Grahams truly are ADDICTING, there is no way you can eat just a serving- too delicious! That's why I was SO excited getting these in the mail. Cocoa and Vanilla sounds like a great addition to the line of flavors.
Each Bunny Cookie is about the size of a quarter, in the shape of an adorable bunny (modeled after Bernie, Annie's Homegrown bunny, of course!). I noticed that these were not as soft as the Bunny Grahams, and were a bit crisper/had more of  a bite to them. The cocoa flavor reminded me of the outside of an Oreo cookie. Crisp and sweet, but had a deep cocoa/chocolate flavor.  They were really good with the glass of milk I had, and smeared with some all natural peanut butter 🙂 Next was the vanilla flavor, which I preferred over the cocoa, as it was sweeter and more my style. It had a buttery taste to it, and reminded me of a sugar cookie with a little bit of vanilla bean added to it as well.
Overall, these are a nice addition to the line of Bunny Grahams, and let those of you who cannot tolerate gluten enjoy some cute little Bunnies! I'm givng them 4 stars overall– the only thing I didn't like was that the first ingredient was cane sugar, and these are not enriched with calcium like the other varieties are. 🙁 Otherwise, like the box says, "You can't eat just two"- I know I certainly can't!
So forget the junky Easter candy this year- get some Annie's Homegrown Bunny Grahams or Cookies! You won't be disappointed!
But, that leads me to ask. What IS your favorite Easter candy? Mine used to be Marshmallow Peeps. Could someone make an organic/healthier version of those, please? 😀
27 cookies are 120 calories, 3.5 grams of fat, 19 carbohydrates, 1 gram of fiber, and 2 grams of protein.
CANE SUGAR, RICE FLOUR, YELLOW CORN FLOUR, PALM OIL, BROWN RICE FLOUR, CORN STARCH, SOY FLOUR, ORGANIC TAPIOCA STARCH, ORGANIC TAPIOCA SYRUP, ALKALIZED COCOA, NATURAL CHOCOLATE AND VANILLA FLAVORS, SALT, BAKING SODA, SOY LECITHIN, XANTHAN GUM.