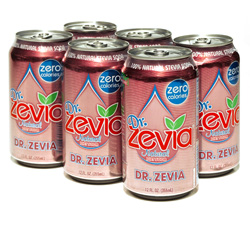 * New Flavor Alert * !
You know me- Always on the hunt for the newest flavors, snacks & goodies for me to eat and for you to read about. Which is why I contacted Zevia, the all natural soda sweetened with Stevia, and asked them to try their new flavor, Dr. Zevia. They generously sent me their new flavor to try, and I was super excited. I have already reviewed (and loved!) their other flavors, you can check that out here.
Now, onto the taste.
Honestly- I did remind me A LOT of Dr. Pepper. This was good in my eyes, because growing up, I always liked Dr. Pepper, but it wasn't a very popular flavor. It was always a treat when I got one, and I especially always remember drinking it while going out to eat with my mom at our local pizza place. So, this soda brought me back some memories too! 🙂
The flavor is a mixture of cola and cherry flavors, with a slight spice aftertaste. It sort of reminded me of clove or nutmeg, one of those spices you make pumpkin pie with. It isn't very sweet, but more of a "savory" flavor. Like I said- it would go perfect with a piping hot slice of cheesy pizza or Amy's Non Dairy Pot Pie (we love you, Amy's!).
This one, by itself, also gets 4 stars. How awesome is a soda with zero calories, zero sugar, no artificial flavors/preservatives and has awesome taste? 😀  Zevia's Dr. Zevia, Black Cherry, and Root Beer flavors are my favorite of Zevia's line. Which ones do you guys like?
1 soda is 0 calories, 0 fat, 15 carbohydrates (from Erythritol), 0 sugars, 0 fiber and 0 protein.
*According to Zevia, "Erythritol carbs have no calories or effect on blood sugar".*
Triple Filtered Carbonated Water, Erythritol, Caramel Color, Tartaric Acid, Stevia Leaf, Fumaric Acid, 33mg Caffeine (from coffee), Natural Flavors, Citric Acid, Citrus Oils, Nutmeg Oil, Clove Leaf Oil, Botanical Oil, Cassia Oil, Cherry Essence.