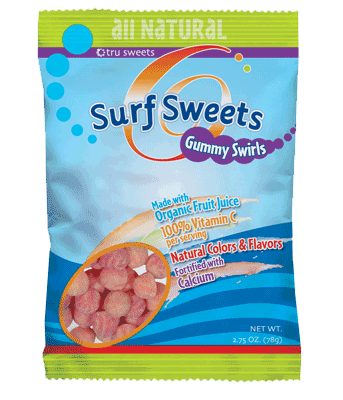 I have such a sweet tooth (seeing as this is my SECOND candy review/post tonight! Make sure you scroll down to see the second review!)  I'm so happy that companies like Surf Sweets make healthier alternatives to traditional candies to help satisfy my sweet tooth but also ease my mind!
Surf Sweets makes organic and natural jelly beans and gummy candies. According to the website, "At Surf Sweets, we love candy! We're passionate about making the world's most flavorful candy using all natural pure ingredients. We're also a company that cares about the health and well-being of our customers and our planet. These values have inspired us to launch a complete line of all-natural, organic gummy candy and jelly beans."
An added bonus- their products are made without corn syrup, trans fats, artificial ingredients, and preservatives. They also provide 100% of your daily vitamin C needs per serving. How's that for a candy??
The company sent me a few of their products to try, including the Gummy Swirls. These are vegetarian/vegan, and not only provide 100% daily needs of Vitamin C, but calcium as well. (I can see it now. Kids everywhere saying, "No thanks, Mom. I don't need to drink my milk today. I can have these candies instead!!" 🙂 )
Each cute drop has colored swirls of orange and pink, and is coated with delicious "sugar" sprinkles. I put sugar in quotes because they are sweetened with evaporated cane juice, tapioca syrup and fruit juice concentrate, so I'm not sure what factor gives it the "sugary" coating. They are sweet, indeed, but not WOAH that's SWEET!. They are sweet, in a good way. And addictive too! They are nice and chewy on the inside, and stick to your teeth like a good gummy candy should 😉
Overall, I give these 4 1/2 stars. They are really tasty! I like to suck on them, one by one, and savor each piece (plus that prevents me from eating the whole bag in one sitting!). If you like gummy candy, give these a try! They will satisfy a sweet tooth, and provide some health benefits as well. Take the advice from the bag and "Catch a Wave of Flavor".- Cute!!
16 pieces is 120 calories, 0 grams of fat, 29 carbohydrates, 0 grams of fiber, 22 grams of sugar and 0 grams of protein.
Organic Evaporated Cane Juice, Organic Tapioca Syrup, Tricalcium Phosphate, Organic Grape Juice Concentrate, Pectin, Citric Acid, Ascorbic Acid, Color Added (including Black Carrot Juice Concentrate, Turmeric, Annatto), Natural Flavors.