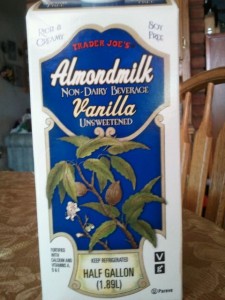 I absolutely love almond milk. I mostly have it with cereal and fruit for breakfast before going to the gym in the morning. Although it's low on protein, I find it's lighter on my stomach than dairy is, and I have never had a problem with it.
So, the other day at Trader Joe's, I went to get some Almond Milk and noticed that Trader Joe's had their own version. I'm always up for trying new brands, so I put it in my cart and bought it.
Once home, I tried it two ways. By itself, and with cereal and fruit with 1 packet of stevia sweetener, seeing as it was the unsweetened variety.
By itself, it was really creamy tasting- almost like the cream you put in coffee. There really wasn't much vanilla flavor otherwise, but I could have totally used it as is with my cereal.
Next, with the cereal/fruit/stevia, it had a  VERY strong vanilla flavor. I was amazed at how the sweetness I added really brought out the vanilla in this almond milk. So good! But very unique, I dont think I have ever had an almond milk with that much vanilla flavor (and I add the same amount of sweetness to my cereal every morning!)
Overall, pretty good! I would get it again. Some things to note that it stated on the carton was that this is "Gluten Free", "Lactose Free", "Dairy Free" and "Vegan". It's also a tad high in sodium, 180 mg, but I'm not overly concerned with my sodium levels so I think that's a good level for me. 4 stars
1 cup is 40 calories, 3 grams of fat, 2 grams of carbohydrates, 1 gram of fiber, less than 1 gram of sugar and 1 gram of protein.
What's your favorite type of milk? rice? almond? oat? Please let me know! 🙂